I first met Zak Irvin on August 22nd, 2014. At the time Michigan was in Italy, part of the College Basketball Tour, and Irvin had just won the friendly tournament MVP. I would have never imagined I would meet him again three years later in Pesaro, and that the circumstances of our second meeting would be so unusual. It has been reported that Irvin left the team, apologizing for his behaviour and for leaving the team on such a short notice, but never offered any explanation. When we met, a few days ago, he seemed to be excited to be in Italy and was as talkative as I remembered and he had fun answering my questions. We decided to publish the original interview, without editing it. Yes, some answers might sound peculiar, considering what happened in the last few days. He won't be playing in Italy next season, but all I really wanted to talk about was his incredible last season with the Michigan Wolverines. And that cannot be changed.
In 2014 you came to Italy with the Wolverines for some scrimmage matches during the College Basketball Tour: was that experience crucial in your decision to come to Italy to play?
Ciao! (He says directly in Italian giving me a high five) Yes! I came here in my sophomore year with Michigan University. It was an incredible experience and it was love at first sight with your country. Wherever we went, people were very nice; we visited Rome, Verona and Siena; it was nice to see many different places and learn a little more about Italy. Sure it helped me in taking my final decision to come here to play.
So, now, I have to ask you. You are a "4 stars player", you played Summer League and then you decided to come here in Italy, a decision that surprised a lot of people. Can you explain it? Which are your future goals? Do you plan to go back to the States or is Europe a real turning point of your professional career?
My life goal is to play in the NBA one day; everybody follow up their path, and personally I am excited to be here in Italy, to have the chance to play everyday and improve, and I will make the best out of it. I decided to play overseas because I thought I had a better chance to develop and show off my game in here, in hopes of playing in the NBA next season.
Then why Pesaro?
When I first landed here it was simply love at first sight with its beach and its basketball legacy. Also the great coaches staff is what eventually brought me here, as it something I always wanted. And I could feel I would join a great group of guys that it what you need to a have a good season and win the games.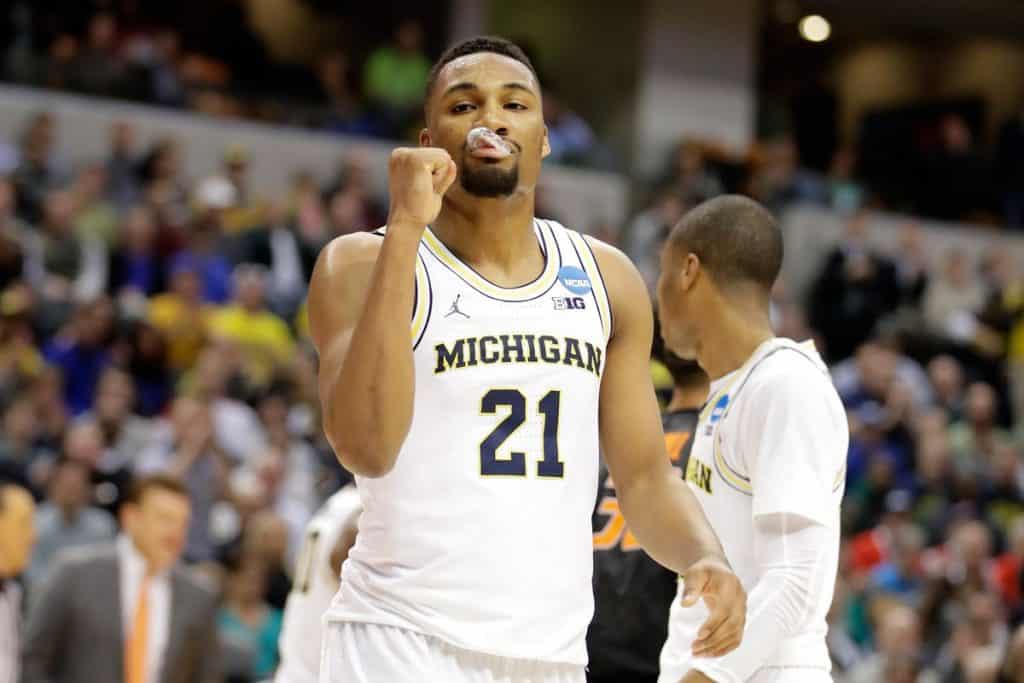 When the Heat contacted you, how did you feel? Did you expect it?
I was very excited when they called me. I was undrafted, so I was very happy to have the chance to play with the Heat becauseI knew I could learn a lot of things and, you know, that experience opened up the doors for me to come here and play in Italy. So I am very grateful for that.
You are very close to your family and literally a "Irvin's gang" (he has a huge laugh at the word "gang") attended your senior night at the Crisler Center. How did they react to your decision to come to Italy?
They were very excited for me as they know that becoming a professional player has always been a dream of mine since I was a kid. It will be a though transition for me to be so far from my family for so long, I hope they can make it here to Italy and watch a couple of games, so it will be nice to have some familiar faces watching me play.
First year at Michigan: you entered the court immediately during the first match of the regular season; you were nominated twice Freshman of the Week and the Wolverlines won their conference. How did you live your freshman year in a team that competed for the NCAA title they year before? Worries? Expectations?
I had a great freshman year; I had always wanted to play college basketball and the fact that I ended up in such a great program as Michigan was somehow special for me. Entering the court on the first match doesn't happen very often as a freshman, nor to have so many minutes like I did in my first year. It was a nice transition for me from high school to college and sure I was very excited to be on this program: you know, the year before Michigan had fought for the NCAA title and I could not be more excited; after that incredible season the atmosphere was wild over there; fans were very close to the team and everybody felt very optimistic; it was indeed a special year in every sense for me.
Fans only see the cool part of being a student-athlete. We know that instead there is much work, there are many sacrifices and many difficult moments. Lets talk about this hidden side.
It is very tough; you have classes during the day and practice right after 20 hours per week; when you get home from the practices or matches you are often exhausted but you have to deal with your school papers and exams; even when you get home from an away match at 2 am; so you don't have much sleep; grades are important as you have to maintain a certain average to get the chance to play; at the beginning it is never easy but after four years you are used to these rhythms.
March 10th 2016, Bankers Life Fieldhouse. (I just had to mention the date and the place that Irvin answer before I had the time to finish up my question)
That is something I will never forget. Being Mr Indiana Basketball and have the chance to play in Indianapolis that night with that incredible crowd; it was certainly a special night, and moreover we were able to win and that made it even better. I love the feeling of being surrounded by thousand of people rooting for me: in these situations I give my best so I really enjoyed that experience for sure.
Your Senior year was literally insane. Let's start with March accident: your airplane can't take off due to sever weather condition and eventually slid off the runaway . Can you recall that day for us?
(he smiles remembering that night but when he recalls it he makes also the mimic of the whole thing with him waking up and the plane getting out of the runaway) 8th of May 2017 during the Big Ten Tournament Travel. An aborted takeoff attempt in high winds in their way to Washington DC.
I was very scared and the whole accident looked like a movie: I was sleeping and woke up terrified; the pilot said that we were about to crash and I nearly paralyzed ; but thanks to God everyone was safe. We were all shook up and worse, we were scared about the idea to take another flight two hours later. It was very rough for us but eventually we were able to play a great match that night.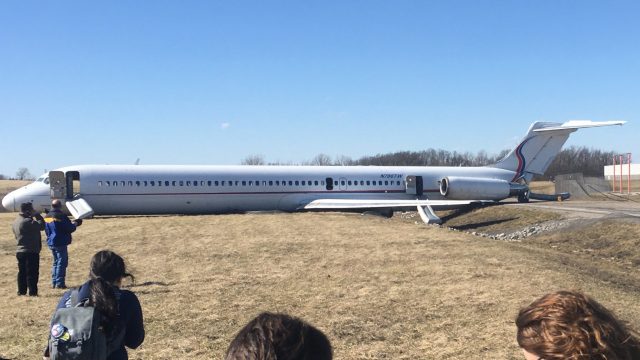 Then your victory at the Big 10 tournament, 4 victories in 4 days, the first time for an #8 seed, the first for the Wolverines. "You will always remember what you have done tonight" said Coach Beilein.
Well I will always remember those 4 victories in 4 days (Illinois, Purdue, Minnesota, Wisconsin), especially being the #8 seed – it has been never done; we were a great group, a bunch of really good guys,  and achieving that was something  special to me and the whole team.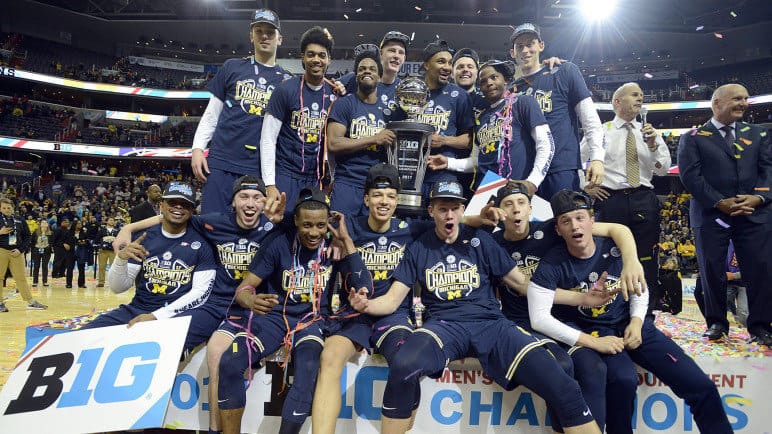 In a CBS poll, coach Beilein has been voted as the most correct and respectful coach of NCAA. Can you tell us something about him? A quote that inspired you.
He was indeed a great coach and he helped me to raise up my game but he also helped me become a better man off the court. You know, we spent together four years at the University of Michigan and yes, I have to give much credit to him for both my personal and professional growth. When I was a freshman I was struggling when I didn't shoot the ball well, and once he told me that "there is a difference between shooting well and playing well", and I take this great lesson with me wherever I go.
And finally a great tournament, defeating Lousville (73-69) and getting to the Sweet 16. Do you have any regrets for that last final minute against Oregon when you couldn't score and lost by just one point 68-69?
(he sighs before answering) I will always remember that damn game; we were playing to get to the Elite 8 and it was a tough loss for us. After the great run we had, I felt we had everybody rooting for us; we simply could not make a single shot in that eternal minute; but we had a great opportunity.
Final question. Let's talk about your expectation for this season and what do you expect in your future.
This year I hope to improve my game more and more by having many minutes on the court in order to level up and to be able to join the NBA next year. I know that the Italian league is very competitive so I will have to give my 100% every night on court.