[nextpage title=" "]
A new season is about to start, and plenty of American players agreed to move to Italy. A handful of them just finished their Ncaa career, others got pro-basketball experience in the former D-League or around the world. The Italian league will feature a collection of new talents from overseas. Before they get on the court, fans should learn a few things and keep them in mind going forward.
Before we start, however, it is time to look back and spend a few words on those who left Italy after their first season here. Four players moving to the French ProA came as rookies to the Italian SerieA last year: Nic Moore and Terran Pettaway left Brindisi and Pistoia respectively to be teammates in Nanterre. Aaron Craft, after falling just short of the national title with Trento, will play next season for AS Monaco, while Tyler Harvey will move from Torino to the Antibes Sharks. Trento will also lose Dustin Hogue, who is moving to Pinar Karsiyaka in Turkey. Robert Carter Jr will leave Brindisi to play in Lithuania and with the Eurocup-bound Lietuvos Rytas. Finally, ex Boston Celtics second round pick Marcus Thornton left Pesaro to sign with the Guangxi Sharks in the CBA.
[/nextpage]
[nextpage title=" "]
University of Pesaro
Vuelle Pesaro will rely on three rookies right out of college for the upcoming season, down from four after Zak Irving surprisingly left the team: a few days before news of his return to USA broke, he granted us an interview and he seemed excited to be in Italy. Eric Mika is the big prize of the summer for the Italian franchise: the 6-10 center from BYU lived in Rome for two years during his Mormon mission, following his freshman year. He headed back to Utah for his sophomore season to average 20.3 points and 9.2 rebounds. Mika is an old-school big who knows how to move on the court and makes up for his lack of athleticism by playing with energy and using his excellent footwork. He can also play at the power forward spot for stretches and is a good mid-range shooter and an excellent rim protector (1,9 blocks per game with BYU). We will have the chance to get to know him better in the next weeks, so stay tuned.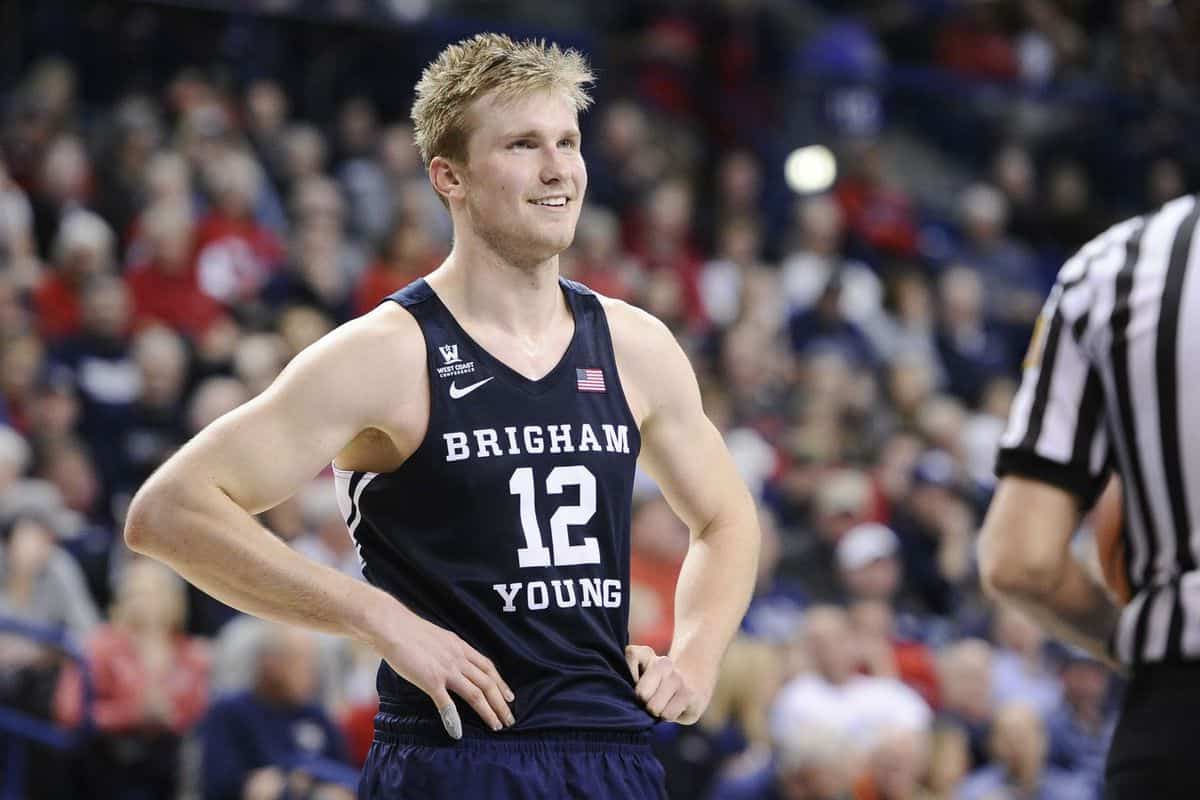 Dallas Moore, second of the three rookies in Pesaro, might easily be the team top scorer and one of the most prolific scorers in the whole league: as an undersized lefty guard, he prefers to play in transition and relentlessy attacks the rim. Moore is a score-first guard, and he proved as much in North Florida, where he finished as the university top scorer all time with 2437 career points.
Pesaro's opponents will also have to face Emmanuel Omogbo, the power forward from Colorado State and only player in the Mountain West to average a double-double (13.6 points, 10.4 rebounds). Omogbo is more than just a rebounder (top 15 in rebounds per game in the whole Division I): he can finish at the rim and went 31-of-89 from behind the arc last season. Just ask San Diego State.
[/nextpage]
[nextpage title=" "]
Good old Brindisi and a gamble for Torino
Enel Brindisi proved once again that the team is more than willing to gamble on young, promising talents and signed Anthony "Cat" Barber and Obinna Oleka. Barber is a former McDonald's All-American and All-ACC First team who averaged 23.5 points, 4.6 rebounds and 4.5 assists in his junior year at North Carolina State. He went undrafted in 2016 and spent the season in the D-League. His speed and creativity when finishing at the rim or passing to open teammates gained him the nickname "Cat". In Italy, he will have to prove he can be an efficient floor general who can score from outside when opposing teams will clog the paint. These two weaknesses held Nba teams from giving him a chance.
Oleka is a 6-6 forward-center who makes up for his height with great motor and incredible athleticism. Oleka is an elite rebounder who finished his senior season at Arizona State just shy of a double-double (12.6 points, 9.9 rebounds) while playing at the "5" spot in coach Bobby Hurley's small ball lineups. He also showcased a somewhat reliable three-point shot.
Fiat Torino has ambitious plans for the season, and Quinton Stephens will be part of it. The stretch forward from Georgia Tech found himself in the unlikely role of leader for a very young team that exceeded all expectations in the ACC. Stephens is a versatile player who can fill the box score and with the kind of defense-first mentality that can help any team.
[/nextpage]
[nextpage title=" "]
Rookie? Not so much
These players already have some experience in the D-League or in other European leagues, and it would be unfair to label them as rookies. Yet, it will be their first time in Italy (or overseas, for some of them), and that should still qualify them as such.
Ex Ncaa champion Chane Behanan is among them: after winning a title with coach Rick Pitino in Louisville in 2013, Behanan had brief stints in Mexico and Puerto Rico and plenty of D-League gigs (Rio Grande Valley Vipers, Reno Bighorns and Salt Lake City Stars) and will play next season for the Dolomiti Energia Trento. The 6-5 forward is a great athlete who plays above the rim and is effective rebounding the ball.
Forward-center Marcus Kennedy signed with Flexx Pistoia. The former SMU player under Hall of Fame coach Larry Brown moves to Italy after playing one year for Turkish club Yesilgiresun and one season in the D-League for the Rio Grande Valley Vipers. He can play both with his back to the basket and facing his opponents to punish defenders with a reliable mid-range shot. He has good court vision from the post and is very effective when rolling towards the rim. Finally, his size and timing should be enough to discourage opposing guards from attacking the rim. Pistoia also signed Jaylen Bond, a bouncy power forward with a huge wingspan. He is an elite rebounder who can guard centers and forwards. He played two years at Texas and two more at Temple before spending one season in the D-League with the Westchester Knicks, where he worked to extend his range behind the three-point line.
The Sidigas Avellino signed one of the early candidates to the Italian MVP in Dez Wells. After three years as one of the key cogs at Maryland and nine impressive games (16.8 points, 50% from nehind the arc) in Greece with the Doxa Lefkadas, he went back to USA and played for the Oklahoma City Blues in the D-League. He is a versatile guard-forward who can play multiple positions and has the rare combination of talent, size and athleticism to be a scoring threat anywhere on the court, from behind the arc to the restricted area, arguably against anyone.
[/nextpage]
[nextpage title=" "]
Italian Second Division
The A2 can be the perfect place to start a career overseas. Just ask Kyle Hines, who started there with Veroli Basket and went on to become one of the best centers in Europe and win three Euroleague titles.
With this precedent in mind, it is worth keeping an eye on a few players who will showcase their talent in the Italian second division. First on this list is Jared Brownridge, who signed with Stings Mantova. The ex Santa Clara guard is a talented scorer who can find baskets from anywhere on the court (he scored 32 points against Gonzaga this season) and shot a career average of 40.3% from behind the arc for the Broncos and was voted in the All-WCC First Team. And in case you are wondering, he does have the clutch gene…
Roseto Sharks signed 6-2, 194-pound Darrell Combs, a score-first guard form IUPUI. In his two years in Indiana he averaged 16 points per game and showed he is abble to create his own shot and to finish at the rim.
NCP Rieti will rely in Chris Davenport, who left North Florida University after his senior year. The forward, and now former teammate of Dallas Moore, is the only player in North Florida history to finish his college career with over 1000 points, 500 rebounds, 300 assists and 100 blocks. That's the kind of potential he has on both sides of the floor, and he has the chance be one of the best two-way players in the league.
[/nextpage]
[nextpage title=" "]
Isolation in the Island
Last but certainly not the least is the new lead guard for the Dinamo Academy Cagliari, Marcus Keene. The 5-7 ex Central Michigan player is a scorer by trade, and he was the first player in the last 20 years to average 30 points in the Ncaa, obviously the best in the whole Division I. He was one of the most unstoppable scorer in college basketball and delivered legendary performances along the way, including a 50-point outbursts against Miami-Ohio.
There is no middle ground in his game: he is either shooting from a couple of steps behind the three-point line or he is exploding to the rim to finish with acrobatic layups in traffic. Sending another defender at him might look like a great plan, but he did average 5 assists last season, suggesting he should be more than capable of finding open teammates. Cagliari will be a must-watch next season, and plenty of fun.
[/nextpage]