[nextpage title=" "]
We had plenty of unexpected results in the last few months and February will certainly present a few more thanks to a packed schedule. There are 8 teams left, including outsiders like the 14th seed William&Mary and 12th seed Green Bay.
Gonzaga is the favorite to win it all, after an easy win against Fort Wayne. The Zags will play Ohio in their next game, after the latter won a close game against St Bonaventure by a single point. The WCC is living up to the expectations, with 1st-seed Saint Mary's playing Princeton (undefeated in the Ivy League) in the next round after a 60-57 win against Akron.
Two tough games coming for the lower seeded teams: Green Bay will play BYU, with the latter coming from a 20-point win against LA-Lafayette. In the next round William&Mary will play Monmouth, who won against Dayton. there is a real chance for a #14 seed to qualify to the Final Four.
Here is the tournament board and the final results of the Sweet 16.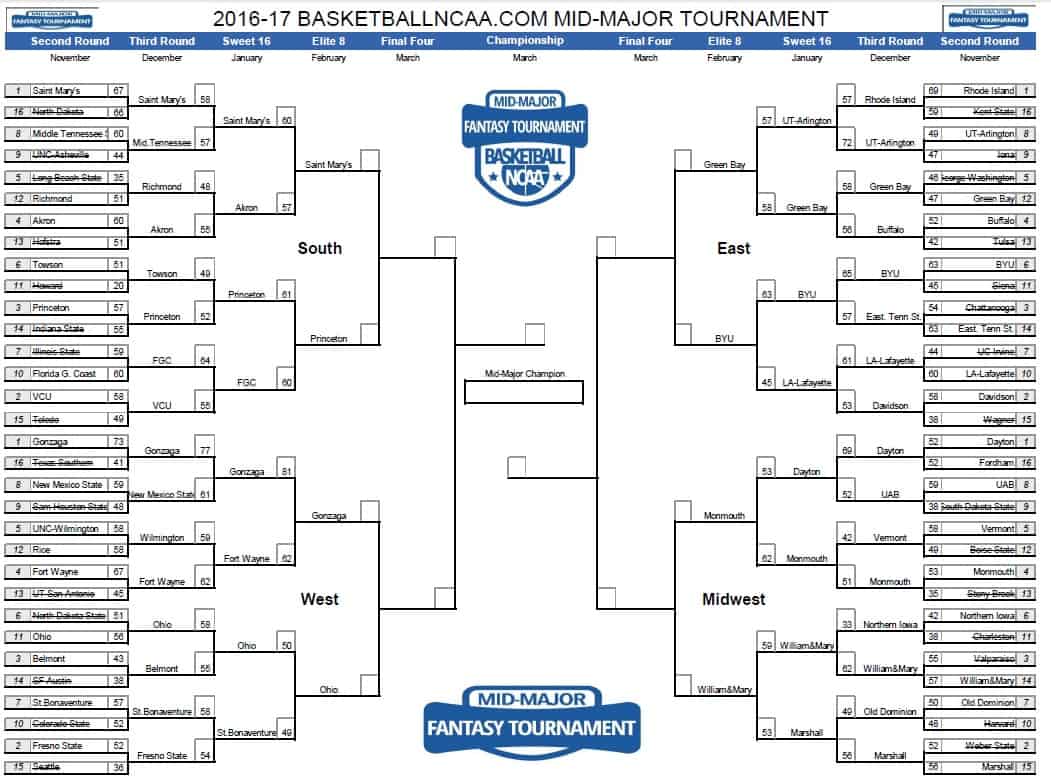 [/nextpage]
[nextpage title=" "]
SOUTH
 #1 Saint Mary's – #4 Akron 60-57

It was a balanced game between Saint Mary's and Akron: the Zips are allowing just under 75 points per game in January. The Gaels have an excellent defense and they are awarded 10 points, while their opponents get 2. Saint Mary's, on the other hand, has a poor offense (less than 70 points per game) and gets them only 4 points, while the Zips get 10 (almost 81 points per game).
#3 Princeton – #10 Florida Gulf Coast 61-60

Princeton played only three games, but all of them crucial: three wins in blowout fashion carrying the team to the Elite 8, worth a 1-point win against FGCU, a win built mainly on defense, worth 10 points to 4 for their opponents.
[/nextpage]
[nextpage title=" "]
EAST
#8 UT-Arlington – #12 Green Bay 57-58

It was projected as a great game and the 1-point differential proved as much. UT-Arlington relies on an 81-point-per-game offense, but defense is not nearly as efficient and left an opening for Green Bay. Not that the Phoenix are particularly good on that side of the floor, but the Mavericks only gained 3 points for their defense. Blocked shots were crucial to the game final, with 6 points to 2 in favor of Green Bay.
 #6 BYU – #10 LA-Lafayette 63-45

Two teams on a completely different level and the final speaks for itself. It was a crushing defeat for LA-Lafayette, who was inferior in almost every statistics, especially on defense and under the boards.
[/nextpage]
[nextpage title=" "]
MIDWEST
#1 Dayton – #14 Monmouth 53-62
Monmouth upsets 1st seed Dayton and keeps rolling on its path to the Final Four. The Flyers had a poor rebounding month and the 7-point differential in the rebounding area in this game were key to their defeat. That adds up to a 71 PPG offense playing Monmouth's 82 PPG juggernaut.
 #14  William&Mary- #15 Marshall 59-53

Both teams rely on their offense, while defense is secondary. When that happens, the difference maker is the efficiency at which the two offenses operate. William&Mary shot 52% in the team's 9 games, while Marshall shot only 43.95%, good for 5 less points in BN's system. That also influenced the points coming from assists, with the fomrer averaging roughly 18 assists and the latter staying just below 15 assists per game.
[/nextpage]
[nextpage title=" "]
WEST
 #1 Gonzaga – #4 Fort Wayne 81-62

It might have been a balanced game, if Fort Wayne had kept it up on defense. The Bulldogs allowed 57 PPG, while the Mastodons are sitting at a bad 76 PPG. Turnovers (14 to 8 in favor of Gonzaga) were another key statistic that helped distance the two teams and allowed the Zags to cruise to a comfortable win. The Bulldogs also get 5 extra points for a win against a top 25 ranked team in Saint Mary's.
#11 Ohio – # 7 St.Bonaventure 50-49

It was a close game decided by Ohio's performance on offense more than anything. Pretty much every other number evens out and the 1-point differential comes from a slight difference on turnovers (12.4 for the Bonnies, 12 for Ohio).
[/nextpage]