Randolph Childress spent most of his professional career in Italy, carrying three different team from the Italian second division to the Serie A, one basket at a time. Once his playing career was over, he went back to his alma mater, Wake Forest, to begin his coaching career from the very bottom and climbed up the tanks to become coach Danny Manning's first assistant. He obviously wants to go ahead and be a head coach, but he would love to cross back the ocean and coach in Italy, where he was known as "the Professor" as a player. In this chat we had he talmed about his team, his new career and his excitement when he became his son's coach.
When you went back to Wake Forest, you started from the very bottom as an "Assistant to Athletic Director", then"Director of Players Development", "Assistant Coach" and finally "Associate Head Coach". Are you planning to become a Head Coach? Do you think you are ready for that role?
Yes and yes! Actually, you don't really know when you are ready. If I'm given an opportunity I am sure I'll take it.
Did you receive any offers?
More than offers. I have already talked to some teams. Sure, I'd love to stay here at Wake Forest. But to be honest, my biggest dream is to go back and coach in Italy.
Would you rather start with a small university or with a famous and renowned one?
It makes no difference to me. I love coaching and helping kids to grow up; so it wouldn't change much. I'm fine with wherever my career will lead me.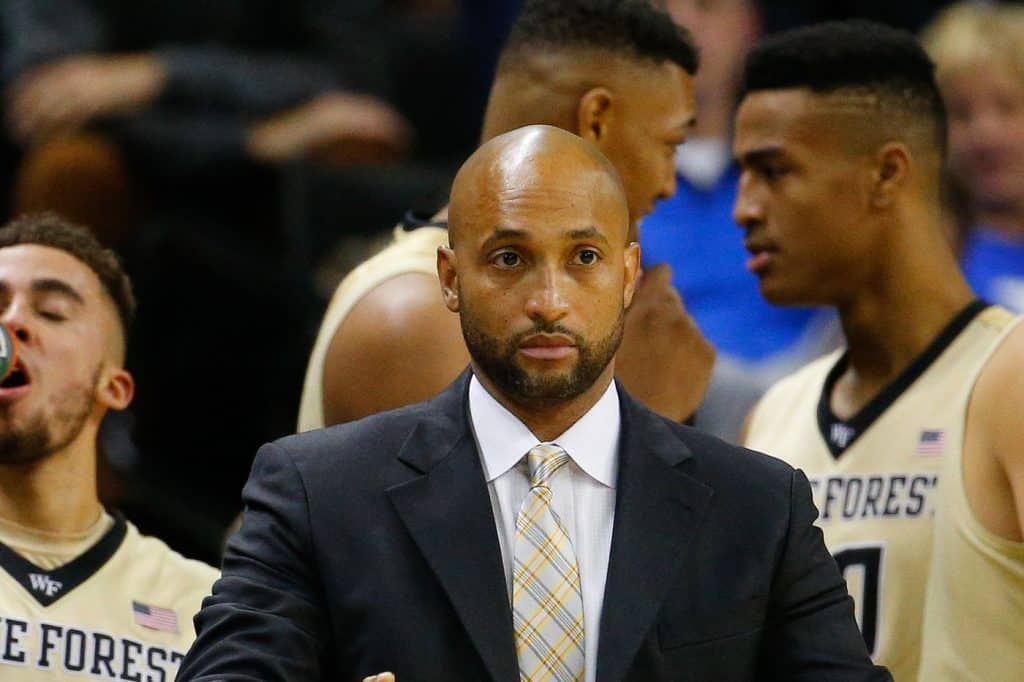 Before talking about your experience in Italy, I would like to ask you what kind of duties you have as Associated Head Coach?
Scouting, recruiting, assisting Coach Manning with the preparation to the matches and training; I deal with the organization of the trips, the hotels. I do all those things that can make Coach and players' lives easier.
Do you take decisions in practice or during games?
Yes I do. Eventually, the decision belongs to the coach, but I can give advice on a substitution, on a defense or offense situation. Indeed I take my responsibilities on this matters.
What style of play does Coach Manning want to see?
I think the biggest thing is about tempo of play up and down. He wants our guys to play really really hard. Coach Manning's motto would be "play hard and play fast".
You mentioned earlier the recruiting process: what kind of players do you look for?
Personally, I prefer players with good technique but who can also play with passion. I believe that passion is crucial to play basketball. Sure, as a coach, there are technical and tactical elements to take into account, but there's no doubt the players I prefer are those who give it all on the court.
Any advice you could offer those Italian young players who dream of playing in NCAA?
Actually, European players who come here are very prepared in the fundamentals. The critical point is physicality: they struggle a lot on that aspect. So, my advice is working on their bodies so that they can adjust easily to the NCAA which is more physical than Europe.
In Italy you were "the Professor", a nickname given to you by Marco Andrezza, Montegranaro assistant coach. Do you see yourself as "a professor" in your relationship with your players?
(He laughs as he listens to the question) Absolutely. I think it's funny that I have that name, because it's why I coach. As a coach, your job is to teach. Especially when you're coaching young players. You teach them about life. You teach them about basketball. But a lot of the time, you teach them about life through basketball. I've had a great level of success; I've played basketball at every level. I feel I have a lot to teach to young men about how to play the game.
Is there an advice you always give your players?
Enjoy yourselves; enjoy yourselves until you can as time passes by very fast in college. And be the best of yourselves; I think that anyone wants to have and take more responsibilities with their teams. So, my advice is "be the star of your team". That is, you are your best by helping your teammates when they need you the most.
Let's talk about last season: WFU lost to Virginia Tech in the second round of the Acc tournament and then by Kansas State in the First Four. Do you have any regrets? Could you actually do something more?
No, I mean… we were young. We had a young team, and we're still young. We had some interesting players such as John Collins, who is now with the Atlanta Hawks. Not to mention our freshmen! Our job is to develop young players. I think freshmen are fortunate to play for us as we want to prepare our players for professional basketball, in the NBA or anywhere else. It's a challenging and difficult job. We are in a conference with the likes of Duke and North Carolina, and we're competing every year against the best players. We want to do that. It's fun. We enjoy the challenge of doing that. We're always going to motivate our players to be the best they can be. And the folks hopefully will be confident enough and eventually win a championship.
This year your team has a negative record with 10 victories and 17 losses – many by double digits – and is 3-12 in conference. What's different compared to last season? How much is that Collins leaving for the Nba?
Collins, as last season went on, showed all his potentialities and it didn't surprise us, we all knew what he was able to. What came as a surprise was his decision to leave when he had another year of college ahead. We're happy for him, but it became very difficult to replace him in a short period of time. Then also Dinos Mitoglou left to play with Panathinaikos, in Greece. We miss them because we had no time to recruit. What we are missing is the ability to close games. Every loss we had this season, except for three of them, we were leading in the second half and lost in the last five minutes. We have to be better in this. If we were able to do that, our record would be completely different. When that happens, you have to figure out ways to challenge yourself as to why we're losing these leads. We have to finish games. Sometimes you make youthful mistakes, and this is normal as every year your team is different. Every year you have new challenges with your players, and we need to overcome those.
Let's talk about yourself. As a player you helped WFU to win the ACC in '95 by scoring 37 points in the conference final. Do you have any memory of that game versus North Carolina and about your last shot?
(He laughs remembering the moment) Sure I remember! Actually, I remember all my college years, my records, the teams. But if I must be honest, at the beginning of my career what meant the most to me was winning and scoring. Then, as my career went on, I understood the importance of managing the ball and the team. But in my college years I was just scoring. And that was because of this attitude. It was part of my DNA as a player.
Your crossover over Jeff McInnis is still very popular. Do you still remember that game? Many viewers and commentators criticized your reaction and celebration in that situation. In hindsight, would you react in the same way?
Well, you should consider that situation in the way we used to play in those years: there was more trashtalking on court and that was considered normal. So, we were both two competitive players and we kept talking trash to each other the whole game. My reaction was the consequence of that situation. But sure, now, I wouldn't do the same and I regret it.
Tim Duncan was your teammate; do you have any particular memory of him? Any anecdote you can share with us?
Do you know what is the funniest part of all of this? Nobody expected Tim could become the great player he has become. He didn't have exceptional athletics qualities but he was a guy who trained hard. He was the one who trained the most here; he was very humble and made himself into a great player by working hard. I still remember when he first arrived here at WFU: it was very cold outside, it was even snowing, and he arrived with no jacket no shoes! I'm happy I played with him and proud to call him a friend.
Your career has been dramatically effected by many injuries; do you have any regrets, maybe NBA-related ones?
No, absolutely not. Injuries are part of the game and I'm absolutely happy of my career, of what it has been and of what it will be. I'm happy of the teams I played for and of the people I met, especially in Italy. It's there where I want to continue my career as a coach. I played in Italy most of my professional years and adult life. This is why I want to go back and bring my knowledge to my players. I'm really looking forward to that moment.
Well, we are all waiting for you then! As we talk about Italy: in our League you helped three teams go from second division to Serie A (Montegranaro, Caserta and Varese). In Montegranaro you were even awarded the honorary citizenship! But which promotion meant the most to you?
They were all different and each one is somehow special to me. Montegranaro is a very small town and nobody was expecting us to win that year. We were a very close group, including with our Coach Pillastrini. It was my first Italian Championship so it meant a lot to me. I stayed there three years and I met many people: I'm looking forward to going back there. With Varese, we had a great season and we went straight to the Serie A (Italian First League). I was again with Coach Pillastrini and I couldn't have been happier. With Caserta it was different: we were a great team and everybody expected us to do well; and so we did. It's difficult to pick one, but if I have to pick a place that is special to me, well, I'd go for Montegranaro.
While you were playing with Scafati, a journalist once wrote that you were both a "blessing and a curse" for the team. Which memories do you have of those two seasons with Scafati? Any hard feeling for the team that cut you just before the playoff?
In Scafati I didn't have friends, I had a FAMIGLIA (and he stresses the word family in Italian). I don't have any regrets. When I think of Scafati I think of a family. sure I wish things had gone differently at the end of the season, but I'm happy I was able to handle the whole situation as a professional. I'm grateful of the chance they gave me.
Your son Brandon now plays at WFU: is it difficult to balance the two roles, as a father and as a coach?
No, it's simply fantastic and I can handle the two roles. When we're at home I'm simply dad, but on court I'm his coach. Coaching your son makes it the greatest job in the world. And being his coach is simply great and meaningful: watching him growing up both as a player and as a man is fantastic.
Which aspects of the game and personality you and your son have in common?
I guess we are both very competitive, but he has an innate quality: he is an extremely kind guy. He's a great guy, and I'm very proud of him. It's a pleasure to be his coach but, like with the other players, when he makes a mistake I would like to put him away. (He laughs). He wants to learn and it's a pleasure watching him on court.
Is there an advice you gave to him and that he eventually followed?
We are both talented, but he's not me and he won't be ever like me as we are two different players and men. He doesn't have to struggle to be like me. What I always tell him is "be your best" outside and on court.