The team
The loss against Stephen F. Austin was heartbreaking and now West Virginia will have to approach this new season without some key pieces. It will not be easy to make up for the absence of two good rebounders like Devin Williams and Jonathan Holton, two critical pieces in coach Bob Huggins press defense. He will have to rely on Elijah Macon, who is expected to live up to the expanded role, and on freshmen Maciej Bender and Sagaba Konate, but there are more issues to be solved. The backcourt will see the return of experienced players in Tarik Philipp, the focal point of the offense since Jaysean Page left, and junior Jevon Carter and Daxter Miles will be the double headed front of their press defense.
Last season
The loss against Stephen F. Austin was tough but it was a positive season: the team finished second in the Big 12 with a 26-9 record and lost in the conference final.
The coach: Bob Huggins
His press defense is a nightmare for anyone who's preparing a game against his team. Coach Huggins (or Huggy Bear, given his imposing frame) is the real leader of West Virginia and he will begin his 10th season on the Mountaineers bench, hoping that his team will reach the Final Four, seven years after its last appearance.
Key player: Elijah Macon (PF, Jr)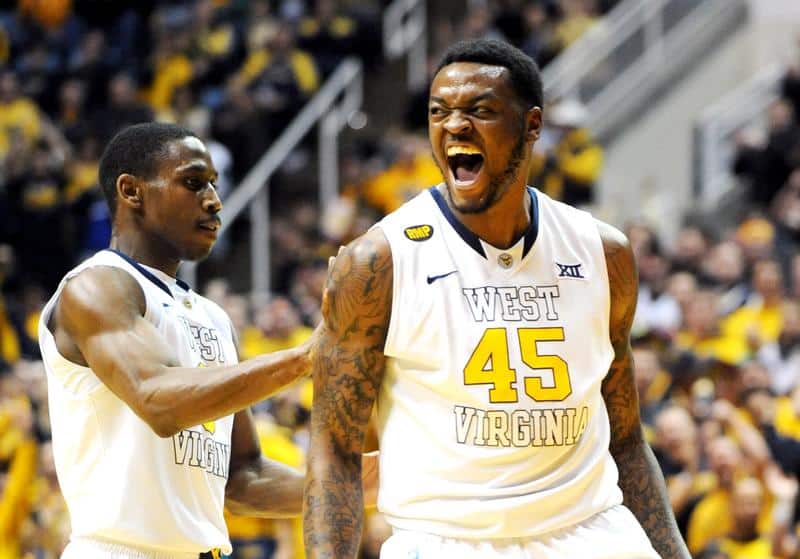 Controlling the boards is vital to WVU system, and the performances of new starter Elijah Macon will determine the results of the whole team. He will be in his third year and everyone is expecting him to show more than just potential.
Prospects: Maciej Bender (PF,Fr), Elijah Macon (PF, Jr), Sagaba Konate (PF, Fr)
There are no Nba prospects on the team, but three players might have their future in Europe. Elijah Macon has well rounded fundamentals but he is still too inconsistent to have a major role in the biggest teams overseas, the young Maciej Bender is a big man with good feet and range on his shot, reminding somewhat of Frank Kaminsky, while Sagaba Konate is the kind of interior bruiser who relies on strength and athleticism.
Likely starting five
PG – Jevon Carter (Jr)
SG – Tarik Phillip (Sr)
SG – Daxter Miles (Jr)
PF – Nathan Adrian (Sr)
PF – Elijah Macon (Jr)
Relevant players from the past
Jerry West
Video