Dallas Moore carried North Florida to historic goals while dominating the Atlantic Sun Conference with his scoring. In his first season in Italy, his 19.4 points per game are good for second in the nation. He has the ball in his hands when Pesaro needs a basket, just like it used to be with the Ospreys. We had the chance to talk to him here in Italy, and while his focus right now is this season with VL Pesaro, he still has Nba dreams.
Let's start with the amazing 2014-15 season. North Florida won the conference title and made it to the Ncaa tournament for the very fist time. But what happened in the first round of the NCAA tournament against Robert Morris?
That was a crazy season. We started a bit shaky, we couldn't find our chemistry and we ended up losing a lot of games early on. Then, we started winning and during conference games we were unbelievable, we just couldn't loose. The championship game, well… I'll never forget it. It was a sold out crowd. When we won the fans just rushed into the court. I have a picture of it and it was insane. But when the tournament started and lost to Robert Morris… that really sucked. We were winning the whole game. We were up 14 points and when we thought we had it, they kind of picked it up and came back (and won 81-77). That was maybe the most heartbroken moment of my career.
Do you have any regrets?
I wish I had made more shots! I just felt bad for my team, for my guys not to have been myself in the closing minutes of the game, especially for my seniors. We worked so hard to get there and it slipped away from us.
Despite that game, you absolutely dominated the conference: freshman of the year, 2005-16 player of the year… what are the greatest memories of your college years?
I didn't cry In my last game of my senior year. I know, it may sound crazy, but a lot of kids do cry in their last game in college, they feel like it is the end of their career. But I knew big things were about to come because of what I had done in college. I gave everything I had in those four years. There was nothing I could feel sad for.
Which was your best year?
I think my junior year was the best. Even though we didn't get to the championship or anything like that, I think I played my best basketball that season! I think I averaged 20 point per game, 6 assists, 4 rebounds. I really gave my best, I got my teammates involved and I was able to play my best for the team. That was a great achievement for me.
And you also defeated Purdue for 70-73… the first win over a Big Ten team. Do you remember that game?
Actually, we also won against Illinois, so that's two wins versus Big Ten teams. But that over Purdue is undoubtedly the biggest one. We were down for pretty much the whole game, and then we came back and took control of the game. When the game was over, we started jumping up and down (he laughs at the memory). We were at Purdue, you can imagine the crowd was shocked. They were silent while we were celebrating on their court. It was kind of funny, you know.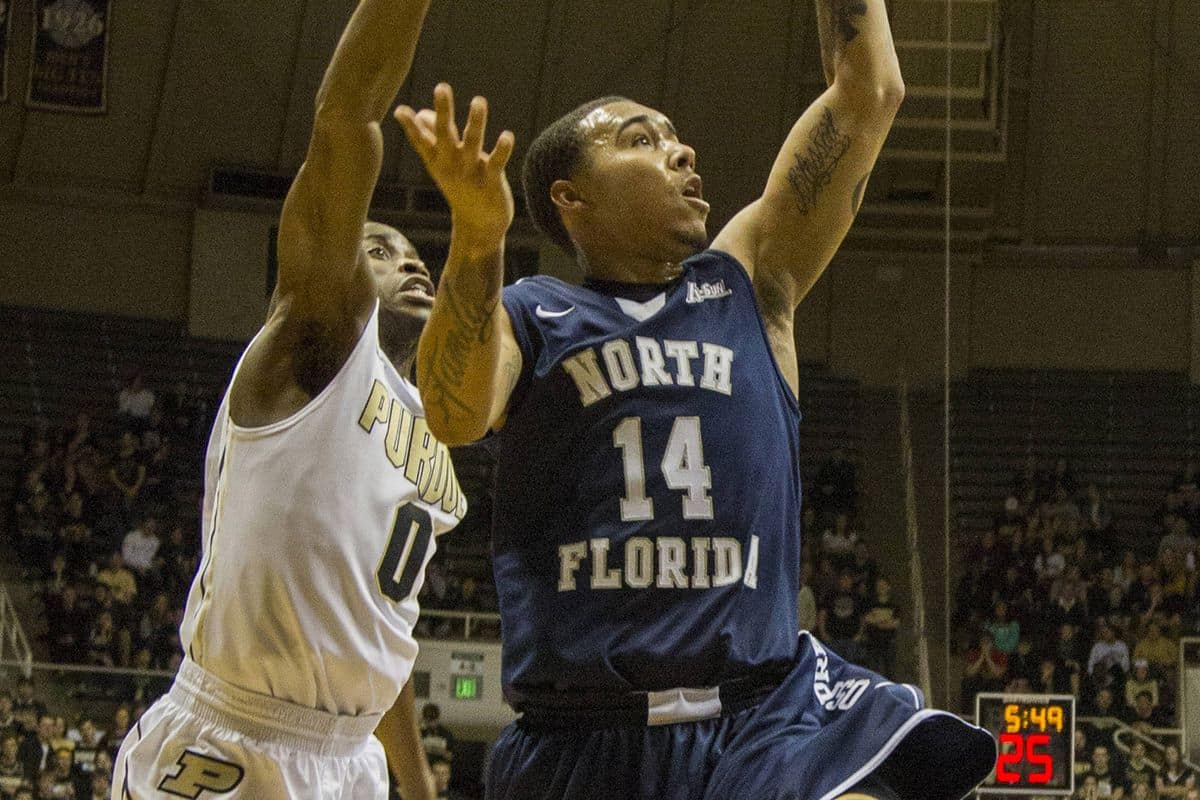 What did you learn from coach Driscoll, a multiple Coach of the Year winner in the ASUN? Can you share some mottos or special advice that he gave to you?
There's nothing bad I can say about Coach D. He helped me a lot on the defensive end. Offensively, I was ok: I knew what I could do and everybody else knew it; but defensively, I think he is the one who helped me get where I am now; I also hope that his advice will help me improve even more.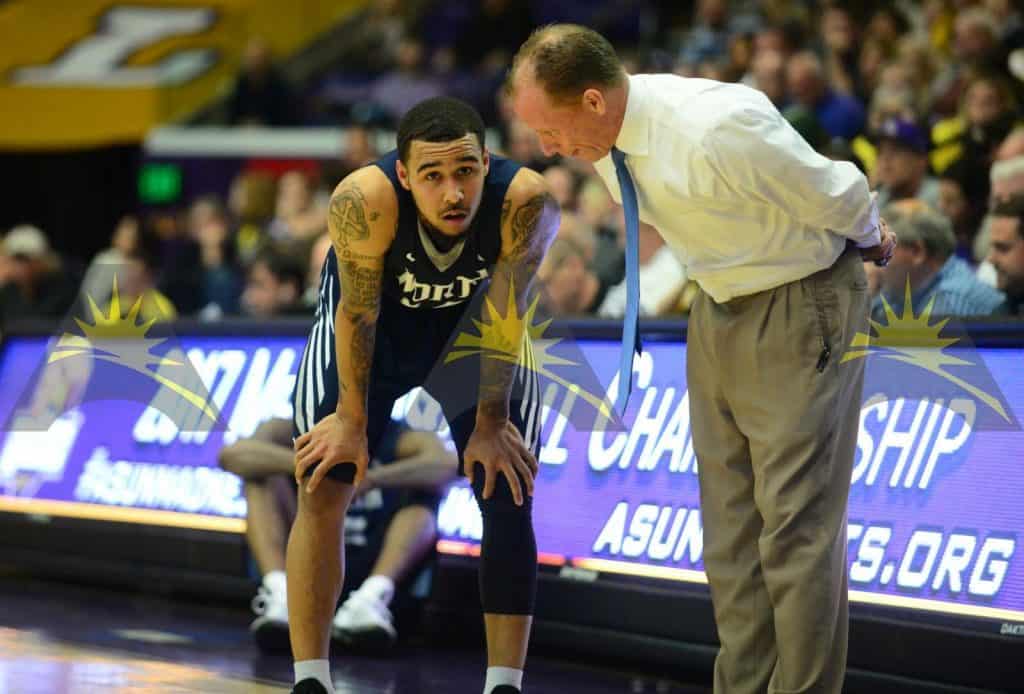 You played in Summer League with the Denver Nuggets and many NBA team, including the Oklahoma City Thunder, Milwaukee Bucks and Brooklyn Nets showed some interest. Why and when did you decide to play in Italy, and why Pesaro?
When I was with Denver for Summer League I didn't play that much. It was an unbelievable experience, and I have to thank the Nuggets for everything they did for me. I actually played well in the last two games and that's when my agent got a call from Italy. I felt I needed room to play and I decided to take the offer from Pesaro. My agent told me it would have been a good situation and I would have had the chance to play in an important role. So here I am, happy of my decision. I am really embracing the VL project and I am giving my best every day.
In an October interview you said that the NBA is still your ultimate goal. So are you considering going back to the US or are you leaning towards staying in Europe/Italy? What do you like about the Italian league the most and what do you miss of the US league?
The NBA is my dream, as it is for every player. But the season here is not over and I am just focusing on that.
Can you tell us the main difference between basketball in the US and here in Italy? What about training regimens, time management in and out the court or the gym?
It is very different (he interrupts me before I can finish my question)! Time management is similar, we play in the same hours as in the US, but as far the games… physically, it is totally a different world! It is a lot more physical than in college… you play against grown men out there (and he stresses the word men), 30 year old men, while in college we were just 23 year old kids. Age makes a big difference in our game. It is just tough. These are professional players who get payed.
But, as other players told us, you need a professional approach to survive in the Ncaa?
Yes, college basketball has a very professional approach. We work with scouting reports, both personally and on a team level. We have to mange time between travels and the gym (like here in Italy), between school and games: it is very demanding from this point of view.
Irvin's decision to leave Pesaro shows that the shift from college to being professionals abroad is not easy. What kind of hurdles do you have to overcome?
Adjusting to a game where physical contacts are stronger and harder, where you don't have the chance to play one-on-one as much, is quite different and not always easy. You a stronger team-oriented approach than what we are used to in the US. I think these are the main differences and what players struggle the most to adjust to. Also the way of traveling for the games… it's quite different in the US and that takes time to adjust as well.
You had a strong start to your 20 and 29 points, you are second overall in points per game and you spend a fair amount of minutes on the court every game. What does coach Leka expects of you, once you are on the court? What did you have to adjust the most once you entered the Italian league?
I am doing well offensively but as a guard, what I need to improve the most is communication. The games are very loud here, and I have to learn to communicate better. I have to get better at keeping my teammates involved. As I said before, I love taking shots, but here in Italy, passing and getting the team involved is essential. I am working hard on this.
Are you following the NCAA this year? Which player impressed you the most?
I am following my team, and at the moment they are doing pretty well. I also have some friends in bigger teams like Kansas and Miami and I am following them as well. Who surprised me the most? Well, I'd pick Trae Young… that boy is incredible! Just look at his face and you know he is there for big things. He may go through some tough stretches as a freshman, but he is indeed doing great things. He is averaging 30 points per game: this's unreal! Credit to him and to his teammates, man!
When you were very young you used to play soccer… now you are in a country where soccer is the most popular sport. Did you have the chance to watch any of the games?
Yes, I was very small when I started playing! And I know that here in Pesaro soccer is not so popular… but I wish I could watch a Juventus game! It's my favorite team and I really like soccer!