When you aim to get better and win something, you have no time to take a brake. UTSA's starting point guard Giovanni De Nicolao knows it well and hit the gym every day since the season ended, even in the short time he spent back home in Italy. The team has been practicing again for over a week under head coach Steven Henson, who will be in his second season on the Roadrunners' bench. In his first year the team finished with a good conference season (8-10), proving expectations of being a bottom-dweller in the C-USA wrong. Personnel turnover will be necessary, new players will be around while others left sooner than expected (Jeff Beverly, Gino Littles). Yet, De Nicolao's role (8.2 points and 3.3 assists in 27.2 minutes in his freshman year) will stay the same.
Before the season started, UTSA didn't seem to receive much credit from the majority of college basketball journalists and bloggers. Plus, the team had to deal with the suspension of Christian Wilson, who was projected as the best returning scorer of the team. It still was a good season for the Roadrunners: how did you manage to turn things around?
Since the beginning, the coaches told us that we were here to change a lot of things at UTSA and to create a new culture and winning mentality where it really did not exist before. Since last year many things have changed, for one, the coaching staff changed and that is one of the main reasons a lot of talented players moved to UTSA. The new coaches at UTSA are all from America. The head coach and one of the assistant coaches are both from Oklahoma; 2 years ago they went to the final four. A fun fact is my coach is the one that recruited Buddy Hield, who is the star of the New Orleans Pelicans [e.n. he has been traded to the Sacramento Kings on All Star Weekend]. Our associate coach was the coach of Findlay Prep, one of the best high schools in the US (where players like Cory Joseph, Tristan Thompson or also Amedeo Della Valle played….) and last but not least, another assistant coach we have here is from Columbia University (who played at Air Force Un.).
Christian Wilson is a good player but his loss, I believe, made us more of a team and stronger together because without a role on the team, someone else had to step up and take his place, and I think a lot of us did that together.
Not only is the basketball program getting better, all the other sports teams we have are getting better and stronger too. For example, last year the football team participated in the Bowl Game in New Mexico for the first time in University history. We are a young University compared to other big Universities that have been around for a while, but our "small" campus has some pretty big goals.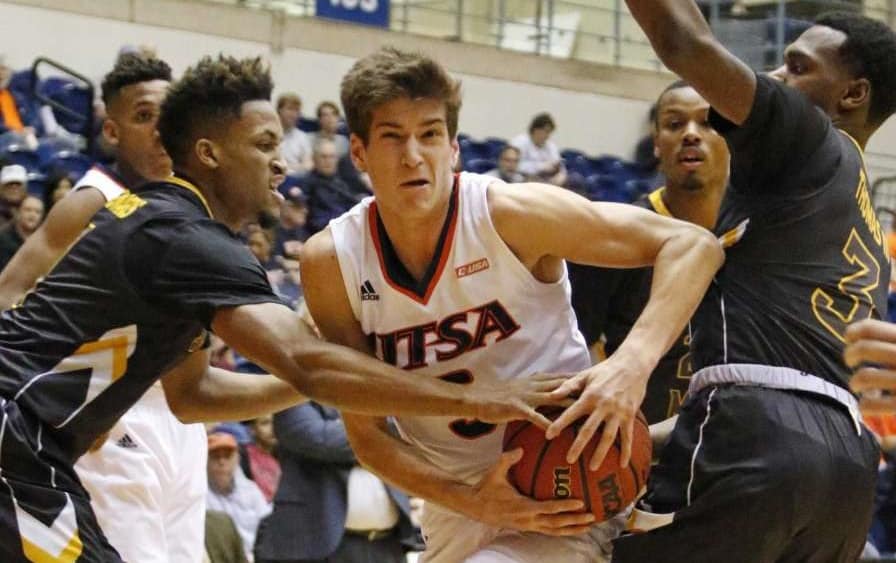 What's your favourite memory of your freshman year, both in and off the court?
On the court I have two memories that I will never forget, the first one is my first game at the Convocation Center and first game of the season where I scored the buzzer beater to win the game. The second one I think it's even more special, we played at Lousiana Tech, an amazing University with an amazing environment (Karl Malone graduated from there). During all the seasons they have been one of the best teams in the conference, especially at home where their status in the last 4 years was, 3 losses and 80 wins. My favorite memory is for sure the moment where I score the 3 that closed the game with 21 seconds to go. The feeling in the locker room after that win was just amazing, there is nothing better. Off the court I have made a lot of wonderful memories since I have met many amazing people, but probably the one that makes me laugh the most is that I did not do so well in school in Italy and right now I'm one of the best athlete students at the University.
You seemed to be very comfortable with having a leading role since your first game: where did you get your confidence?
I love the lead role that coach Henson gave me since the beginning of the season. I'm trying to become not only a basketball leader on the court but also an emotional leader off the court and all of the coaching staff is helping me to do that. Coming from years and years playing with grown men and pro-basketball players, like last year in Casale Monferrato, I've gained the knowledge and skill to compete on the court which stimulates me every day in practice and in the games.
Coach Steve Henson always seemed satisfied by your game: how your relationship with him evolved through the season?
Coach Henson is one of the best people I have met in my entire life. He's a great coach but more importantly, an amazing person, I didn't know him before coming to San Antonio, but immediately from the first time we met, I felt comfortable and safe. He really likes the way I play and often during the game we exchange thoughts and opinions about what to do in certain situations during the game. Through the season I had the opportunity to know him better and my opinion since the first day still hasn't changed. Our strength is the culture that all our coaches (Mike Peck, Scott Thompson and Adam Hood) are creating everyday as we work in the gym.
A while ago, UTSA Graduate Assistant Cale Brubaker posted a picture of you working on your shot on a mid-April Friday night. Your shooting percentages were not very high this year: in which aspects are you trying to improve the most?
Last year, I had to take a lot of shots, especially when the clock was running down and I had to create a solution to the loss of 3 of our best scorers. The thing I need to work the most on is my shooting skills, that's why I think America is the best place for me right now. I have many more opportunities here than back in Italy to practice shooting as much as possible and to get better in that area. It's a different mentality because here, I really do understand that to get better, the only solution is spending hours and hours in the gym. If you have 30 minutes of free time between classes, you get to the gym and you get better. One of the coaches is always ready to work out with you and help you. I had shooting sessions sometimes at 5 AM in the morning or 9 PM at night. Whenever you can get better they want you in the gym, I understood that working every day will get better and stronger and that is why if during the day I'm busy because of classes, I'll make time to go shoot in the night. The best part is the gym is open whenever we want to go in and practice. I'm usually in there by myself with the gun (the machine that pass the ball to you) or with one of the coaches that rebound for me.
Jeff Beverly, this year's top scorer, decided to transfer: what kind of things will change for you as a team, style of play-wise?
He's a good player and I hope the best for his career. Even though he is leaving us now we are getting a lot of good freshmen and transfers in for the coming season. This new season we are working on the possibilities of running more and being able to not stop the ball during our offense, which was one of the problems we faced in our offense last season.
Things could get interesting in the C-USA next season. Middle Tennessee should still be competitive despite losing a few important pieces, while there's a lot of hype around Western Kentucky, who managed to recruit Mitchell Robinson and other talented freshmen. Do you think this may change people's perception of the conference, as Jon Rothstein suggested recently? What could be UTSA's role coming into next season?
I really think that Conference USA is getting more competitive every year, also thanks to the big name that they're creating around our football programs. Middle Tennessee even with their losses still look really good. Western Kentucky was probably the biggest school for basketball in our conference and they are getting better again every year. Other names that will probably do really good things next year are Old Dominion that have gained a couple of amazing transfers that the last season didn't play, UAB who are getting back their point guard that last year sat out because of an injury. But with all that I really believe we can have a really great season. I think Conference USA is destined for big things in the future.
We have good team, good university, a lot of history, and we are ready to take a big step. Watch out C-USA!
Our coaches are setting the level higher every day, our goals are really clear for this next season, we are ready to come back and make a name for ourselves. We are tired of watching people play in March Madness. I can guarantee you that I didn't come here to watch people play, I came to play also in March.