[nextpage title=" "]
If Italian and Spanish basketball have one thing in common, it is the growing number of young players deciding to attend a US college as a student-athlete. In Spain, like in Italy, there are no programs supporting both studies or sports activities, bringing many Spanish youngsters to leave and take their chances in the Ncaa. Some of them were part of the U20-and-under national teams that won so many medals in the recent past. Besides, any 18-year-old should be allowed to dream. Who will be the next Calderon, Gasol or Fernandez? Will there ever be a "Generacion Dorada" 2.0? BN singled out three of the most interesting prospects from Spain that are now playing in the Ncaa.
However, the first step had to be a chat with Nacho Juan Gracia, Senior Editor and expert on all things Ncaa for the website basketamericano.com. BN's Stefano Russillo had the chance to talk to him about the Spain to Ncaa trend.
Would you explain this connection between Spain and the Ncaa?
It started plenty of years back and things grew in a positive way, leading to the current situation. The Ncaa went from being "exotic" to a credible competition, something that people are now considering valuable. What changed the most is the way people think about it. The Ncaa has always been considered a league where players were coming from, but now it became a league to get to, and this idea keeps growing.
What kind of interest is there in Spain for college basketball?
It goes two ways. On one side, Nba fans are attracted by what is coming. Fans enjoy the season, but really want to know what the future of the league is going to be, get to know future stars that might be The Big Thing for the next decade. Comparing players to other players is always a bit iffy, but most people want to know who will be the next LeBron. Thanks to the ridiculous amount of information anyone can access, and to social media, we can all watch videos and consume other contents that are creating hype more than describing the prospect. College basketball satisfies this need. The other reason of the great interest for the Ncaa in Spain is obvious. The number of Spanish young players, boys and girls, who decides to cross the ocean grows every year, and will keep growing. And a fan wants to know how well they are playing, learn about their experience and understand if they will be able to play at the next level. They chose a different path, and this creates an interest.
So you are saying that interest is growing in the last few years.
Definitely. The interest is growing and we noticed that even websites that are not exclusively talking about US basketball do write about it, especially towards the end of the season. March Madness is fascinating for the fans, its format, the Cinderella stories, the epic of the narrative. It is also about the Nba regular season that is about to end and does not have much more to say until the beginning of the playoffs. And that is also when people starts talking about the draft. When you want to know about the draft, you have to check the Ncaa and see future prospects in action.
How is the youth sector organized in Spain? How does it work?
In general, it follows the same model that exists in the rest of Europe. Usually, it is the most important professional clubs to have the best young teams, and most importantly, they are the teams that have the best resources, at least financially. There are teams, though, that have great history within the youth sector despite the disparity in monmey and media attention with Real Madrid or Barcelona, like the Penya (Joventut Badalona's youth team) or Estudiantes. Moreover, most of these are affiliated with other teams that do not play in the top league but can still offer a context and the minutes on the court that are necessary to grow and get some experience.
Why do Spanish players decide to play in the Ncaa?
It's quite simple, really. American universities offer them something their clubs can not: the chance to combine their studies with a great competition. They are too young to be forced to know if they will be professional athletes or if they are ready for it. The Ncaa offers a different opportunity. Besides, a Division I university offers the kind of exposure a player would not have with his team. The competition is ferocious, but if the player is ready to take advantage of the chances he or she will be offered, then scouts from all over the world (Spain included) will notice.
Why is this trend growing in the last few years?
Besides the two reasons that I just listed, there are the good results these boys and girls are having. Moving to the US to play ball takes courage but, if it went well for other Spanish players, it is easier to take the decision. We were used to see Spanish players kept in secondary roles on their teams, now we can see how they became core pieces, some of them became team leaders, in plenty of them. It is very common among women players (there are 46 Spanish women playing Ncaa basketball), with some of them being top level players. Which, as a consequence, is not only increasing the number of Spanish players in the Ncaa, but their average level.
What are the Spanish player moving to the Ncaa looking for that they can't find on their home team?
Spanish players are looking for two things, mainly. An academic opportunity and a chance at a future among professionals. The Ncaa offers an alternative, including at a personal, human level with an experience that will stay with them for the rest of their life. University life in the US, and even more as a student-athlete with a scholarship, is considered a privilege that only a few can afford.
Who are the best Spanish players in the Ncaa right now? Why is it worth to keep an eye on them and what are the expectations on their future?
The best of the group is Sebas Saiz, without a doubt. He spent his last high school year in the US and since he joined Ole Miss, he has been growing steadily, both in his game and in his role with the team. He is a forward-center, very mobile, who can combine his athleticism with his energy. He is a fighter, and despite the difference in weight, he makes his presence known and has good nose for rebounds. In his senior year he became an important piece for Andy Kennedy on both sides of the floor. He is the kind of player who is at his best away from the ball, but he can still be inconsistent. For now, the Nba is too much for him, but he should be a perfect fit with an ACB team. He can have a role from day one, his competitive spirit helps him in that regard. The second in the list, at least in terms of upside, is Yankuba Sima. The former St John's center has an imposing frame and can intimidate his opponents with his muscles. He still has a lot of work to do on his post game, but he has the potential to improve in every aspect of the game, especially in reading the game. He needs to play more minutes to know what his limits really are.
There are other players who might be interesting for the Spanish league and the rest of Europe. Francis Alonso, a guard for UNC Greensboro, is a sharpshooter, a player with great IQ who can swing close games his way with his shooting. Ruben Guerrero, center for South Florida, is a great fit as the player in the middle in a zone defense. Jorge Bilbao, with his intangibles and passion on the court, has been one of the most important players for UT-Arlington for a few years. He is one of those players whose impact goes way beyond the numbers. Another player who will soon be talked about is Eric Vila, who comes off the Barcelona youth sector and is now in the rotation for Texas A&M. He is a versatile wing with good hands who really knows how to play. Others to keep an eye on are Ramon Vila, at Arizona State, and Jaume Sorolla, at Valparaiso, especially once Alec Peters leaves. There are other players worth being mentioned but it should be obvious by now: Spanish players in the Ncaa are not just names anymore, they are starting to be the protagonists.
Let's have a look at some of these protagonists, with a focus by Isabella Agostinelli on Sebastian Saiz, Yankuba Sima and Eric Vila.
[/nextpage]
[nextpage title=" "]
Sebastian Saiz (Ole Miss Rebels, PF/C, Sr)
"Ole Miss fans Christmas came early for you. 6-8 Spaniard Sebastian Saiz is rebounding machine and NBA prospect in time! Impressing in Prague". This was Fran Fraschilla, one of Espn's most popular voices for college basketball, welcoming the young Madrid-native while he was recording one double-double after another at the U19 world championship in Prague in 2013. Seba's parents made the right choice when they brought him in Wichita, to the Kansas Sunrise Christian Academy in 2012. That's where Sergio Rouco, assistant coach for Ole Miss, found him. He had already kept an eye on him while he was playing with the U18 national team, and kept following his career when Saiz was part of the U19 and U20 national teams, with the latter finishing third in the European championship won by Italy in 2013.
Here's his 'tapon' on Giannis Antetokoumpo in the Spain-Greece quarterfinals in Tallin (Estonia).
He more than repaid Ruoco's trust when he went back to Mississippi: after a freshman year he finished 5th in the conference in rebounds, he became a key part of Ole Miss rotation in his sophomore year and became a full time starter in his third year, until he was hit in the eye against Memphis. The injury was initially dismissed as a scratch and got back to playing just after the fact, but a few weeks later he experienced a few issues with his sight. Further exams allowed doctors to diagnose a partial retinal detachment. He underwent surgery and three weeks later he came back on the court looking like this: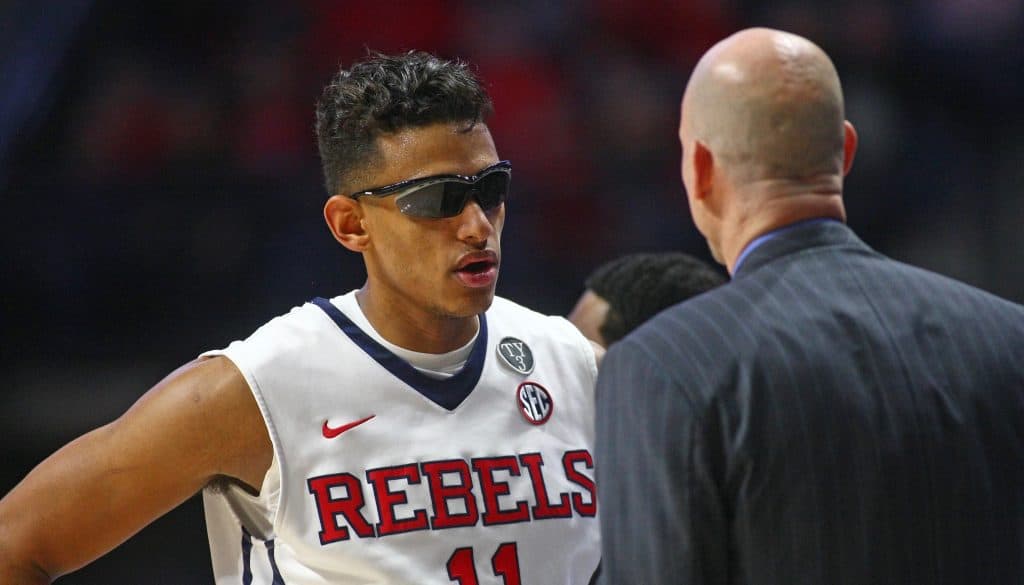 "I thought what Sebastian Saiz did [against Florida] may have been the most remarkable thing I have seen in my coaching career", said coach Andy Kennedy after watching him play with his sight partially obscured. He switched dark lenses to the ones you see below, and explained he will never play without a protection for the eye: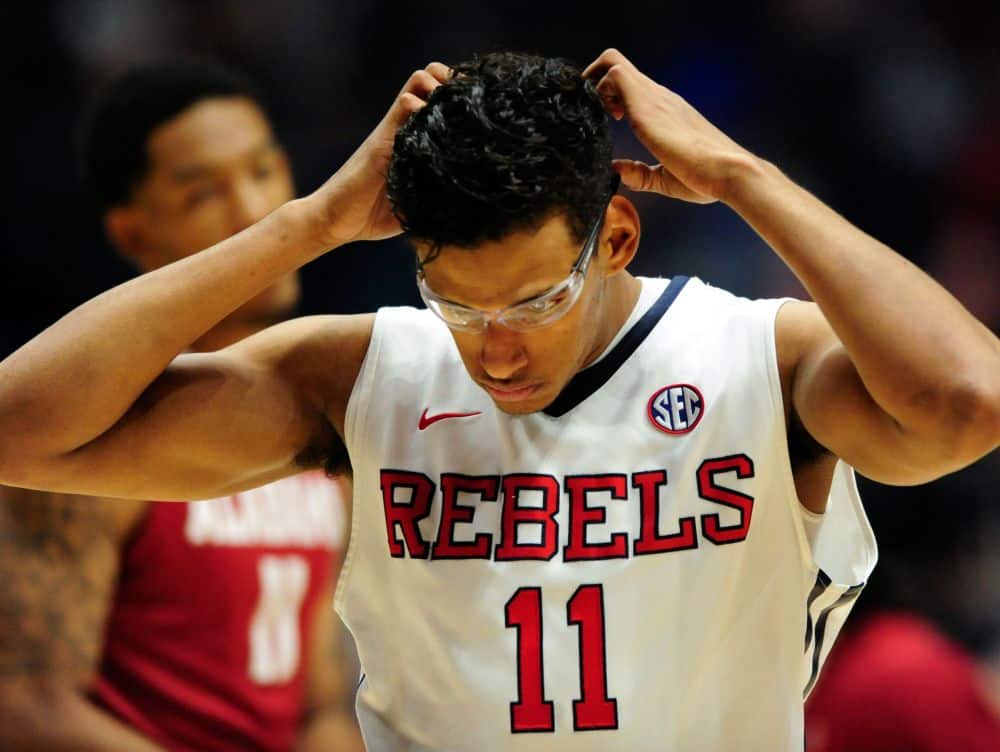 In his last year with the Rebels he is averaging a double-double with 14 points and 11.5 rebounds and shooting 54% from the field. He worked to extend his range beyond the three point line: he tried 10 shots from behind the arc in his first 3 years combined, he already tried 12 such shots in the first part of the season, and made 5 of them. The season started poorly for him: in the opener against UT Martin, Saiz played 17 minutes and had 4 fouls in the first few minutes of the game. An awful performance, and coach Kennedy made his disappointment known, but from that moment on he played very well and had only one more truly bad game in a loss against Creighton.
The Spaniard is the true leader of the team, but only once the season is over it will be clear if he can jump to the Nba. As of right now, it seems a long shot because Saiz does not have the size to play center in the Nba cannot shoot or handle the ball well enough to play outside the paint. But he might carve his own path with a barrage of double-doubles.
[/nextpage]
[nextpage title=" "]
Yankuba Sima (C, So)
When Chris Obekpa left for UNLV, Sima became the de facto starter for St John's. The young Spaniard had a very difficult year, much like "our" Federico Mussini and the rest of the team. It was a very young roster with players from all over the world, a rookie coach in Chris Mullin and internal chemistry to develop from scratch. Sima still provided some help, and finished with 60 blocks, second in the Big East.
Impressive for a kid that moved from Gambia to Girona, Catalunya, where he started playing soccer. Later, he switched to basketball, since he started growing in height and developing an explosive body. In just 10 years he managed to get the attention of most Spanish and American teams. He started with the Canarias Basketball Association and then wore the national team jersey at the U18 European championship in Turkey in 2014 and moved to Florida to take his last year of high school.
He received plenty of offers, even from top teams like Louisville, Baylor, Arizona and Maryland. But Sima chose New York, and after the many losses from last year, the Red Storm are now looking to get back on track, although it has been an up-and-down season so far for St John's.  Sima is the kind of athletic center who needs to get the ball while moving, but his teammates are often more focused on outside shooting than finding him inside. That's why he's decided to leave St John's and now he's looking for a new place to transfer. In the win against Bethune-Cookman he proved he can pass
as well as dunk.
He starts most of the games, although his averages are slightly lower than last year. The only area he is greatly improved is free throws: he went from averaging a terrifying 38.6% last season to 74%, a hint that he has huge upside and might turn into a very interesting player for a European team.
[/nextpage]
[nextpage title=" "]
Éric Vila (Texas A&M Aggies, F, Fr)
For a true "culé" like him, it certainly was a tough choice to leave Barcelona for Texas, but Eric is an ambitious young player and the Catalan team was not a good choice for his Nba ambitions. Son of Claudi Martinez, an ex Barcelona player, he literally made the history of the club when he played his first game at 16 year and 6 months of age in the Liga Endesa, doing better than Jordi Soler, who had his debut as a 17-year-old.
On his side, beside a promising body, he has the desire to push his limits and improve. Or at least, that's what Marc Calderòn, his coach with the Barcelona "cadete" team (16-year-olds) says about him. BN asked him to talk about Vila, and he says: "I played him at the guard spot sometimes, and when he made a mistake he used to get really mad because he always wants to give his best. He is special. When on the court, he is capable of doing whatever is crossing his mind: shoot, pass, get his teammates open, everything. And he is 6-10. He has a high IQ, he demands a lot of himself, has a great work ethic and he is a good student. He is very ambitious and that's why I think he will become a professional player. But for him to make it at that level, he has to work a lot on his body and bulk up."
Eric, as of last season, had already begun his career in the ACB, and his decision to move to the Ncaa turned a few heads. After collecting MVP honors both in the junior league in Spain and at the Adidas NextGen Series, he decided to accept Texas A&M offer. A decision that was taken after the Aggies grabbed a crazy 12-points-in-33-seconds comeback win against Northern Iowa to reach the Sweet 16 last March.
That victory answered any doubts Vila might have had and he became the second Spaniard in the history of the team after
Darìo Quesada
, who left Spain in 1999 in what was then labeled as the "second Spanish invasion".
He introduced himself like this in Texas
In this video you can see a couple of baskets from the Adidas NextGen final he finished with 21 points (5-of-7 from three), 8 rebounds and MVP honors. Let's not make any comparison, but something very similar appeared in Catalunya a dozen years ago.
[/nextpage]