Finance, faith and basketball. How are the three of them related? Your answer is Spencer Nelson. The now ex assistant coach at Utah State, his life took incredible turns: he went on his two-year Mormon Mission with the Church of Jesus Christ of Later Day Saints and he came back better than when he left off, carrying the Aggies to the the tournament in 2005. He later went on to play for some of the most important teams Europe, including Bamberg, Treviso e Siena, and began a career in finance, although basketball was always in the back of his mind, and he found out that Wall Street and sports aren't so far apart. He told us about his mission, his short career in finance and that Euroleague game that introduced him to Italian teams.
In 2015, you started working in a private equity company – your field of study. How and why did you decide to start a new professional career at Utah State?
My college degree was accounting and finance. When I was a player in college, I knew that I wanted to become a head coach, but my plans changed when I had my kids: as a coach you are supposed to travel a lot and it doesn't really match to a family life. At first, I decided that I had to postpone this project until my kids were older, so I started working in an equity company in Salt Lake City. But I knew I hadn't – and couldn't – leave basketball behind and so at the same time I was working also for the Utah Jazz in the media area. You may think that these two jobs have nothing in common, but at the bottom, they both deal with human relationship. Then, Coach Duryea, my coach at Utah State and a great friend of mine, reached to me because there was an opening as an assistant coach. It was not what I had planned to do, but it was a great opportunity to go directly to a position in coaching. I talked about it with my wife and we decided to go for it.
I read about an assistantship in Wallstreet. Can you tell us something about that experience? Is there anything in common between finance and basketball?
You know what? They are very different but they have a few things in common: they are both very competitive, both require great passion and dedication, and both require team work. This is the reason why, often, in Wall Street they look for athletes to cover roles in finance and bank accounting: they believe the qualities you develop on a basketball court are essential in this kind of jobs. And this was exactly my case: they were precisely targeting athletes.
In an interview, coach Duryea said that one of your best skill is recruiting. What kind of players does the NCAA look for? How does the team work in Europe to recruit players over there? I was also thinking about the tour you did in Italy, was it helpful to watch some players?
Good question. There are three things that players must inherently know: three little boxes that need to be checked. First of all, the player has to have, what we call, a "motor", an inner drive to play his hardest. I learned that in basketball there are skills you can or can't coach to a kid. And you can't teach this attitude, especially at this level. I think that this first element is fundamental. If I see that the kid I'm recruiting hasn't got it, in my opionion it's pointless to continue with the recruiting process. The second box that has to be checked has to do with a "feel" for the game. He has to be able to "see the game and make the right moves". This generally comes with experience over time, but can't necessarily be coached. I watch if he does the right pass, if he has the right timing, if he can see the game, how he makes decisions. Finally, I would say the ability to shot the ball. Shooting is essential for a team to be functional. Players must know how to space themselves out on the court to allow for more shot opportunities. If they all bunch in together, it's almost like the court shrinks. If the players spread out on the floor, they can move the ball around while the defense is trying to keep up, giving them more chances to take shots (especially longer shots like 3 pointers).
With Utah you closed your last season at 17-17, but you had an 11-4 home record. Is it true that your fans make a great difference?
It's an incredible environment. If you have never been in there, go and google "Dee Glan Smith Spectrum" and you'll see with your own eyes what our supporters are capable of during a match. I was lucky enough to play there during my college years. What makes the difference is the fact that they give 4.000 or 5.000 of the 10.000 seats to our students, 18-20 year old supporters, full of enthusiasm and imagination. These kids create a great energy and pass it to the rest of the public and to the players themselves. And there are people who follow the team even 16, 20 years after their college years. There are people who watched me playing back in 2004 and they're still there supporting me and the team. That's fantastic.
The regular season was not great, but you had a good record in your conference, beating Boise State and reaching the semifinals. What happened?
I don't like to find excuse, but we had several injuries that effected our team and compromised our regular season. First, our center, Norbert Janicek got injured during the offseason and we didn't really have a strong replacement for him. Then our senior guard, Julion Pearre was out for 16 games. We lost some games we should have won, but we were confident as conference season started. By the end of the regular season, our supporters didn't know what to expect from us. The match versus Boise State was a great match: our kids were able to come together as a team and without any egoism or fear. That made the difference.
At that point, did you think you could also reach the final and beat New Mexico?
Actually, yes, we thought we had a chance. We had won at home against them. We knew how they played (a high paced game both on the offensive and defensive side) and we knew that the key to the victory was attacking them first and trying to avoid turnovers. We started well and we were tied most of the game. This loss is a bit of an upset, but we are very proud of our team and of the season.
The Mountain West proved to be a great conference, did you expect Nevada could reach the Sweet 16? Or were you surprised by this result?
The Mountain West proved to have a high level: I won't be surprised if six or seven kids of this conference will make it to the NCAA in the next years. We will see! The fact that Nevada arrived to the Sweet 16 didn't come as a big surprise. The question was whether they would be able to avoid troubles and injuries. And they did.
Utah State turned over most of the staff for next season, and you won't be there. Can you tell us the reasons you were given for this decision?
Business is business, also in basketball. The director board wants a winning team with a positive record at the end of the season. Early in the season we were very optimistic but we were not able to win enough matches. I'll admit I'm disappointed – also because a lot of kids should return next season – but I definitely understand and accept their decision.
Did you find another team yet?
I had a few talks, but no decision has been made. I am considering several options, in college basketball and professional teams.
Would you like to go back to Europe? Lets say….to Bamberg?
The truth is that I am still in contact with some coaches I played for while in Europe. Not in the near future, but it is a door I want to keep opened. Bamberg is still in my heart and I will be back one day. It would be fantastic to do something with the club. But I'd love to go back to Italy or Spain as well. I had great coaches there and I would love the chance to learn from them.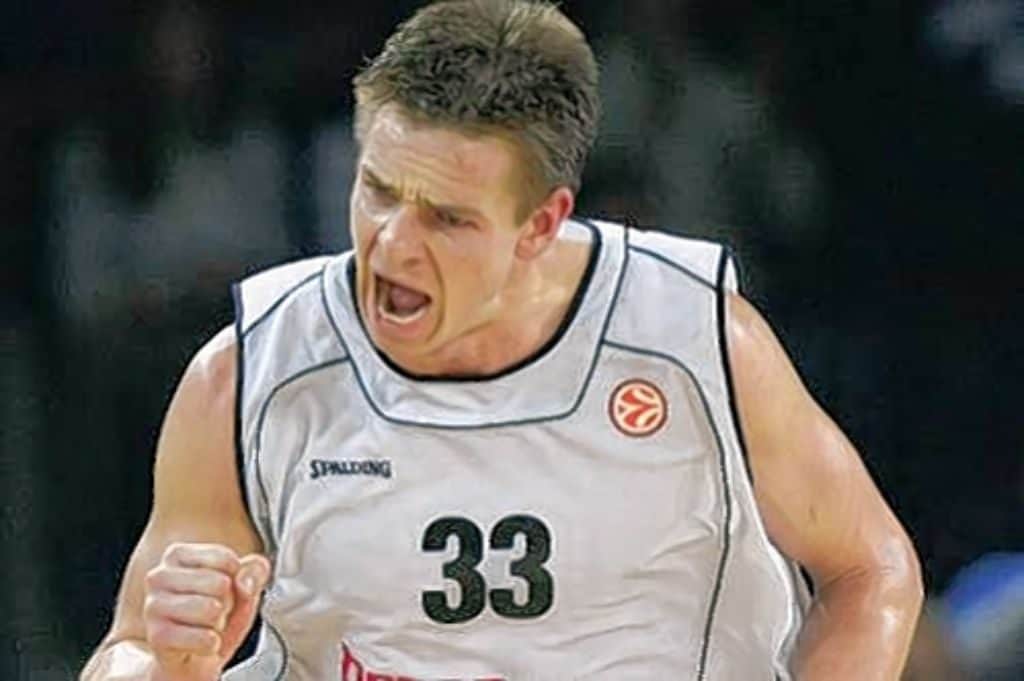 Hot topic: what would you change in the NCAA rules?
College basketball has complex dynamics. And these dynamics give to NCAA its unicity. Sure, rules have to move on as the game changes, but it is essential also to keep this unicity intact. Associations can't work alone though: the NCAA must work with the NBA and with the other associations in order to find the best solution. I don't know whether there should be a definitive cut with the past, but I'm sure there must be changes. I think that the recommendations of the commission don't solve all the problems but they address important points in the right way.
Lets talk about your career as a player. Like Eric Mika, who we interviewed last September, after your freshman year you decided to leave with your church. Can you tell us how you spent these two years? What does the mission consist of?
The best aspect of the mission is that it helps you to become a more mature person. I was 19 when I did it, and you know, guys at that age are focused on themselves: they're very egocentric and are all about girls, basketball and concerned about the future. The mission taught me to open to the others and listen to their needs, it taught me to forget about myself, to look outside my world and to lose myself into the others. During these two years I studied hard in order to find a more personal way to Jesus, but what I did was mainly sharing my personal journey along the streets, in the parks, in the hospitals or even in the orphanages.
And like Mika, when you got back from your mission your basketball performance improved drastically and you became the Big West best Player for two years in a raw. So, does this two-year mission period really work? How can this period be useful in this terms?
The maturity you reach during the two years in mission has great benefits also on your game: it helps you to interact more efficiently with your teammates and to face difficulties. Sport is mental. Think that in those two years, I had played basketball four or five times, but when I got back on court, I was in such a positive state of mind that I was able to improve my game drastically.
Which is your greatest memory of your college years?
Winning the conference and getting to the NCAA in 2005. I grew up following the tournament in a sort of religious way. I used to record all the episodes of "One Shining Moment" and to watch them again and again. When I was nine years old, if someone asked me what my dream was, I would answer "the NCAA tournament" and so getting there was a special moment for me. And sure: the relations with your teammates and the staff, but these are things you appreciate only when you're older.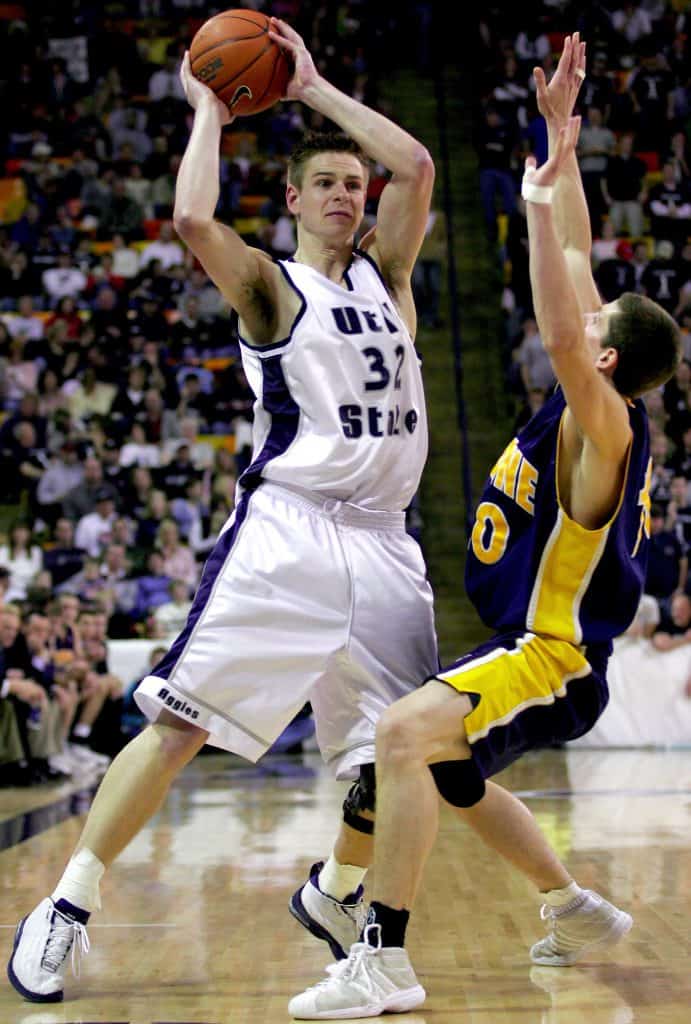 About the NBA. In 2005 you went undraffed but you didn't wait to know wether the Utah Jazz would confirm you and you went directly to Germany to play with Bamberg. Do you have any regrets?
As soon I graduated, I received a first offer from Germany, but I refused it as I wanted to do the summer camp with the Utah Jazz. I played with them for one month but after that period I was cut out. So, two days later, I was on a plane to Germany. Sure, I would have loved to sign a contract with the Utah Jazz, but playing with Bamberg and the chance to play the Euroleague was a great opportunity for me. And thanks to that year, I got the chance to play for many seasons in Europe. It was a great team and Coach Dirk Bauermann was a great coach.
Lets see if you remember this date: December 22nd, 2005. Euroleague. I would say, probably your best game.
I do, I do. It was the game that allowed me to get a new contract for the following season with Benetton Treviso (Bamberg won that match for 92-85). It was a great match: Demond Mallet, Richard Stafford and I played extremely well. Before that match I new nothing about European basketball: I didn't know who Benetton Treviso was and its tradition, and in particular, I knew nothing about the European system of evaluation. So, I remember we were in the locker room and Demond told me "Ehi Spencer, you got 48 in evaluation. That's incredible man!", and I replied "is that good?". I really knew nothing about what that number meant! (he says laughing).
In Italy you played for important clubs a Treviso, Siena and Fortitudo. Which is your best memory of our League?
I got many good memories of the Italian league. The best one is when I won the Italian Cup with Benetton Treviso (Spencer was awarded as MVP of the tournament). I remember the semifinal versus Siena: we were10 points down and with a very few minutes still on the clock. We started scoring 3 points after 3 points and eventually we filled the gap. Nikos Zīsīs's passage and Soragna's buzzer beater brought us to the victory. It's impossible to forget that match.
In 2014 you nearly won the Italian Championship with the Montepashi Siena that later went bankrupt. Do you remember Curtis Jerrels shot? Have you followed the sentence and the whole case?
When I was there you can easily tell that things were starting getting bad and there was a lot of tension. But the player didn't know about what was going on with the society. I followed the evolution of the case and I'm sorry for what happened to the club. They were very nice to me! That shot? (He puts his hands on his head) Sure I remember it! And I still have nightmares!