Eric Vila is only 19 years old, but he already made his share of difficult choices. He is smart and talented and he decided to follow an interesting path to fulfill his ambitions. He is arguably the best Spanish player in the class of '98, and he moves like small forward despite a growth spurt that allowed him to reach 6-10. At 16 years and 6 months, he was the youngest player to ever play for Barcelona in the Spanish ACB. Yet, he decided to leave Spain. After a single season at Texas A&M, and without much expectation to improve on his 10 minutes per game in playing time, he started his new adventure with the ambitious Fresno State, while disappointing the already sky-high expectations (and hopes) of the Spanish basketball insiders. The transfer will force the ex-Barcelona to sit out the season. We reached to him to talk about his decision and his summer with the two Spanish national teams. And of course, we did touch on the political situation in Catalunya.
That's where we will start: Vila was born in Girona, a town just north of Barcelona. Carles Puigdemont, now president of the Generalitat de Catalunya and leader of the separatist movement, had been the mayor of Girona for five years.
Politics are not an easy topic, but I assume recent events in Catalunya had some kind of effect on you. How are you dealing with all that is happening in your country?
Usually, I don't like talking about politics, but I believe this is a very complex situation and for once, I'd like to speak my mind. This is a note that I wrote (published as Instagram stories, thus available only for a few hours) that I want to share: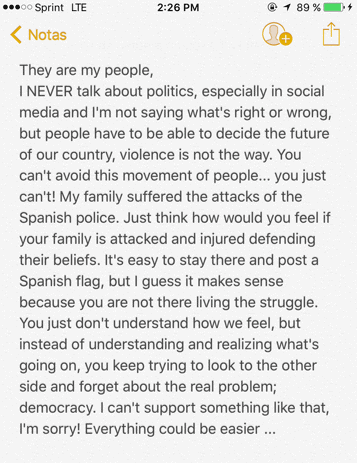 I'd like to add that the people of Catalunya have been rallying for quite some time. They are tired of being ignored. In theory, in a democratic country, people's voice should be heard, and that's what these people are asking. People rallied in Murcia as well, just recently. Was there any reaction from our government? People must be heard, and that should be true for everyone.
Let's get to basketball. Why did you choose to leave Texas A&M and choose Fresno State, a school with huge ambitions for next year?
Plenty of coaches reached to me throughout the summer, that's why it was not an easy decision to make. I already had a favorite in my head, but I decided to remain open to any possibility. Once my work with the national team was over I started visiting colleges. My first stop was Fresno State. Once I got here, I had a good feeling with the coaches, and I felt so good about the campus and the program that I decided to call off the rest of the visits and sign with Fresno right away. Basketball here is the main sport and the very moment I walked on the Save Mart court I knew this would be my house.
Let's take a step back. You grew in Barcelona's "cantera" and you played your first game in the ACB when you were 16 years and 6 months. Once you turned 18 you chose to leave Spain to move to an American college. That decision came as a surprise to many. Why did you make that choice?
I decided to come here to make a dream come true. When it comes to basketball, United States are magic. A player's life here is special and the experience one can get is beyond anything else. The physicality of the game forces you to improve and the opportunity to study and play at almost-Nba level is a plus. I'm not hiding it: I want to play in the best league in the world, and I came here to compete against the best in the country and live my dream.
Many more Spanish players decided to leave Spain to move to USA, just like you did. Is it a basketball version of the American Dream or is there more behind it?
I had the opportunity to play for the best team in Europe when I was 18, but I had my doubts. I want to be a professional player, it's my dream, but Spain does not trust young players. It is the sad truth, and the position my peers in the Spanish ACB found themselves in proves it. In my opinion, college helps coping with a phase of uncertainties. It allows to compete at the top non-professional level while having the time to study.
And that brought you to Texas A&M. What's your most vivid memory of your first game there (against Northwestern State)? Was it what you were expecting it to be?
It was even better. It would not be an overstatement to say that you play every game against Nba-level athlete. I was lucky enough to play for two great teams and a few of my teammates will be in the 2018 draft. It's a blessing to be here. I remember that game very well. I will always remember the first pre-game routine. Not many people know this, but we always did it because it helped us relaxing before the game: we made a circle just outside our locker room and began singing and dancing as if we were home alone. That day I saw the wildest and craziest dance steps in the world.
What was the hardest adjustment you had to make to the American system and to the Ncaa routine? Any story you want to share?
Undoubtedly the speed and the physicality of the game. There are plenty of stories I could tell, but if I had to choose one (among those I am allowed to tell, of course), my choice has to be the Navy Seal Boot Camp. It was one of the best experiences in my life! For one single weekend, three days top, you are stripped of your phone, clothes, lodging and you have to go through the same training the Navy Seals go through. You wake up at 3 a.m. to do push-ups, run, lift truck tires, move trunks, go kayaking, sleep in tents… one of the toughest experiences I have ever had, but at the same time it was one of the most revitalizing. Sleeping bags, no clean clothes, in the woods with the rest of the team, it was special and it helped us create a good chemistry.
This is the last video Eric recorded with his phone before starting the Camp.
Are there any other differences you noticed between the American and Spanish system, beside the speed and physicality of the game? What about fundamentals and the weight room?
Of course. It goes unnoticed to most, but there is a lot of work to do in preparation for a single Ncaa game. We watch films of the opposing teams every day of the week and, since there isn't much time between one game and the next, you are exposed to a huge amount of information in a very short time. The competition is tough and you have to be prepared. As for the gym part, it is a whole different world, compared to Spain. You work well in Europe, but it's not the same.
How did all of this change you or help you? What do you think you improved on the most?
It has to be the physical part of the game. During the World Cup I felt much better and stronger. I played in a league that required a high level of preparation and conditioning, and I can safely say that I improved a lot in that area. In general, though, playing in the Ncaa helped me grow and be a better professional.
Your improvement really showed this past summer, while you were playing with two different national teams: first the U19 World Cup and the U20 Eurocup. Let's begin with the semifinal game against Italy at the U19 World Cup: Spain was up by 11 points with three minutes left, and lost 66-63. What happened?
I honestly have no idea. Their three-point shooting was crucial and we were unable to seal the game. Italy is a very good team, we have to give them credit, but I think we deserved to win. That shot I missed at the very end changed me. And I really mean that. I watched that play a thousand times, but I could not get myself to watch those final three minutes. I want to apologize for that, I am truly sorry.
Who surprised you the most among the players selected by coach John Calipari for team USA?

Nobody in particular, but it was a tough team, that's for sure. After the third-place game (USA won 96-72) I told coach Calipari that he already owed me two, since Kentucky won against us last season. He is an excellent coach and team USA is as talented as usual. I would have loved to win, but I am sure the Spanish team will win soon enough.
In the first phase of the tournament, Spain won 78-73 against a Canada team led by RJ Barrett, who did not play particularly well against you but was crucial for Canada's run to win gold. Do you think he will be a future star in the Ncaa?
I think he will be at the center of everything, wherever he will end up. He is an incredibly talented player and I respect what he accomplished for his country. He is special, no doubt. I talked to him after the World Cup and he is as focused on his goals as I am on mine. The sky is the limit for him.
Spain finished fourth at the U20 Eurocup as well. Were you more disappointed in the outcome of the Eurocup or the World Cup?
The World Cup. The loss against Italy hurt more, but I am not disappointed in anything. On the contrary, I am proud of my team! I am annoyed because we let that dream slip through our fingers. We showed what we are capable of but plenty of people went on to discredit us because of that loss. We know very well how special our team is. That World Cup was special.
I had the chance to talk to Marc Calderòn, your coach with the U16 team, when I was working on my first feature on you. He told me: "Eric can do a little bit of everything and he is ambitious. That's why I think he'll become a professional player". Do you see yourself in this description? What would you say are your areas of strength and what do you have to improve to reach the Nba?
It is true, I work hard and, just like Marc said, I know the path I have to walk to make my dream come true. Marc… Marc was one of the most important coaches I've ever had. I keep saying it: as much as people criticize him, his team is playing in the final game of the Spanish league every year… that must mean something. I have no doubt he is one of the best coaches in the country, and I am proud to say we won one championship together. I have to work on my stances, become more consistent with my shot and improve my ballhandling. The most important thing, though, is getting stronger. That will be a difference maker.
Finally, he shared one last thought:
Before finishing this interview, I want to say one more thing: last season I went through a growing spurt, all the way through the World Cup. It's been proven again and again that I shoot poorly while growing up. My shot goes through so many changes and I have to work hard to get it right once again. Marc knows this "extra practices" very well, I went through a lot of those with him. During summer, I hit the gym with another great coach, Javier Zamora, and I want to thank him for what he did. I was 6-8 before leaving USA, and now I'm 6-10.