[nextpage title=" "]
It has become common for college players who graduated or went undrafted to move to Europe instead of joining the D-League. By doing so, they can keep their Nba dream alive while starting a professional basketball career in an environment that prefers tactics and fundamentals to athleticism.
Every year, plenty of middle-of-the-pack European teams choose young, talented players who just left college programmes and will have to adjust to a different lifestyle and approach to the game, as well as to being professionals, and will have to do so while being far away from the comfort of home or university campuses. Of course, the top European teams, like CSKA or Fenerbache, prefer more experienced players, and for those young men who give up their hopes of playing in the Nba, making the roster of such teams becomes a professional goal.
Without further ado, let's find out who decided to begin his career in Europe.
[/nextpage]
[nextpage title=" "]
The Eastern Wind
Eastern Europe has always been an area that welcomed plenty of young talents leaving college basketball. This season saw Jonah Bolden surprising choice to leave UCLA after his freshman year to play at FMP Belgrade despite being a likely starter for coach Steve Alford, but he still plans to declare for the Nba draft in 2017. Bolden said his decision is a consequence of his desire to grow as a player, and he was not sure it would have been the case with coach Alford, but there might be academic issues behind the choice. Jordan Loveridge left the US after spending the entirety of his life in Utah, attending West Jordan High School and then playing for the Utah Utes, to move to Hungary and start his professional career with the Egis Kormend. In the Hungarian league he will play against Winston Shepard, who joined TLI Alba Fehervar after running the point for four years at San Diego State.
Armani Moore will be in nearby Poland, after reaching an agreement with Basket Zielona Góra. The ex Tennessee wing is a versatile player who put up good numbers in his senior season (12,2 points, 7,6 rebounds and 4,1 assists averages) and will have a chance to play in the Eurocup. D. J. Balentine and Venky Jois were go-to guys in college and now will try to establish themselves in the same role in Eastern Europe. The former had a historic career in Evansville, playing in the underrated Missouri Valley Conference. He is the university all-time scorer, averaging over 20 points in his last three season and adding 4,4 assists in his senior year. He will be playing for the BC Pieno Zvaigzdes in Lithuania.
Venky Jois was a double-double machine with good defensive instincts and a reliable post game for Eastern Washington and will now start his career with the Tartu Ulikool Rock in Estonia, a team that will have a chance to qualify for the group phase of the FIBA Champions League. Jois said he chose to move to Tartu to put himself in the best position to work on his outside shot and to continue his studies, thanks to the international university he will find in the Estonian town.
[/nextpage]
[nextpage title=" "]
Avtodor Saratov takes it all
Avtodor Saratov, a Russian club, was the talk of the offseason, after signing two big names in Michael Carrera and Josh Adams. Carrera will be the first Venezuelan to play in the VTB league, and already proved his efficiency around the rim and from behind the arc in his preseason games, and showed he can be a factor on defence as well. After guiding the Gamecocks to their winningest season in history, he decided to move to Russia, and he admitted to be intrigued by the life experience and the cultural difference.
Josh Adams, on the other hand, finished his last season in Wyoming averaging 24 points, 5.6 rebounds and 4.6 assists before joining the Russian team, but in August he had a terrible car accident that will keep him sidelined for the first part of the season. After the accident Adams had to go through neck surgery and a thorough rehab process that is still underway. The cost of his medical care was around 30.000 dollars, forcing his family to launch a campaign on the gofundme.com website. Luckily, in a few hours over 50.000 dollars were donated, thanks to teams like the Denver Nuggets and Los Angeles Lakers, who supported the cause, while Avtor Saratov decided not to rescind the contract despite the player ineligibility.
[/nextpage]
[nextpage title=" "]
Both sides of the Pyreees
The Spanish ACB and the French LNB Pro A and B will have their share of young Americans living their first professional experience, starting with Rosco Allen, a forward from Stanford with great IQ, solid interior game and a good stroke from outside, who signed with Obradoiro in Spain. MoraBanc Andorra signed David Walker, a wing who finished his senior year at Northeastern averaging 18 points while shooting 41% from three, encouraging Spanish fans and journalists to nickname him "la metralleta", "the machine gun". Saski Baskonia, after an expensive offseason that included the addition of "rookie" Shane Larkin, made an under the radar move and signed Trevor Cooney. The senior guard and true emotional leader at Syracuse, who finished his four year tenure with a Final Four appearance last April, opted to start his career in Europe despite a guaranteed contract with the Long Island Nets, the D-League team affiliated with the Brooklyn Nets. His shooting performances in preseason make him a candidate to be the real surprise in the next Euroleague.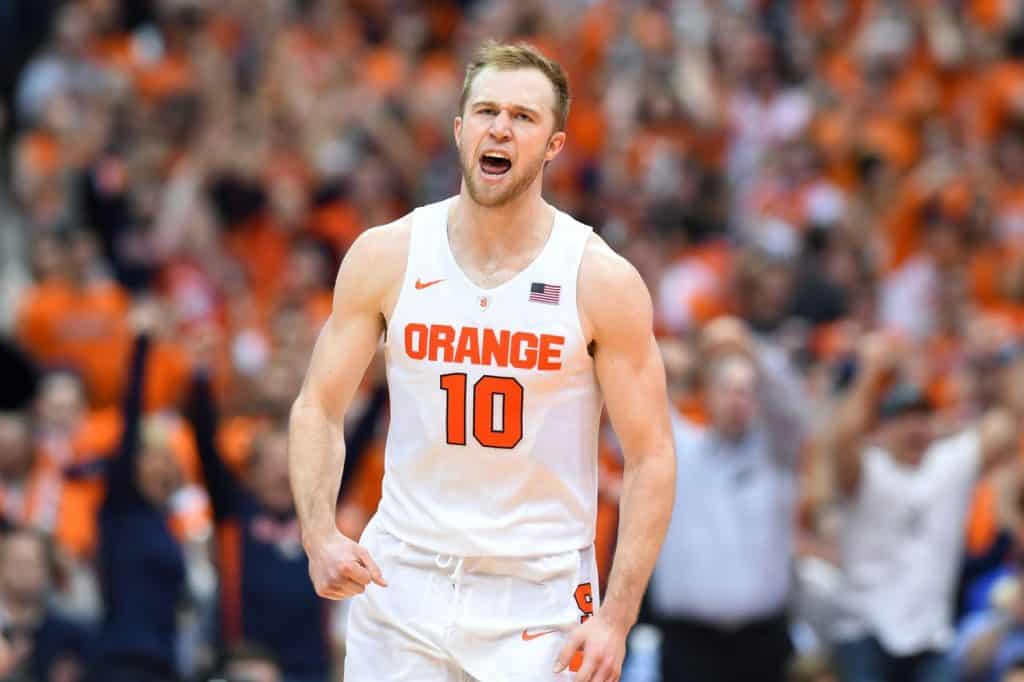 James Woodard, a guard averaging over 10 points in each of his four season at Tulsa, and with great court vision and good athleticism for his size, will try to bring the Rouen Metropole Basket back in the French LNB Pro A. Another player who knows a few things about the Nba is Tyler Harris, brother of Tobias Harris, currently with the Detroit Pistons, and cousin to Channing Frye. After going through three colleges in five years (North Carolina State, Providence and Auburn) he will be with Paris Levallois. But the real talent joining the French league is Angel Rodriguez, who signed with Cholet Basket. The Puerto Rican playmaker is a talented scorer who can set up his teammates despite being undersized at 5-foot-9. He led Miami to the second place in the ACC, was an All-ACC third team and will try to follow on the steps of his fellow countryman Carlos Arroyo.
[/nextpage]
[nextpage title=" "]
Up and down the continent
There are a few more signings around Europe to keep an eye on, starting with Kevin Ware who, after shocking the world with his injury in the 2013 Elite Eight with Louisville, spent two years at Georgia State and is now moving to Finland to play with the Kauhajoen Karhu. The Bakken Bears signed both Dwayne Benjamin, sixth man last season for a surprising Oregon team, and Mike Gessell, senior guard from Iowa and one of the most underrated floor generals in the Ncaa. Shavon Shields, an All-Big Ten Second Team wing who averaged 16.8 points and 5 rebounds last season, will move to Germany after signing with the Fraport Skyliners Frankfurt, the FIBA Europe Cup champion. Belgium will welcome Ryan Anderson, a senior from Arizona who made the Orlando Magic Summer League roster but spent most of his time on the bench and will certainly look for redemption with his new team, the Antwerp Giants. He might be a real factor, given his versatility and efficiency that could allow him to pile up double-doubles this season and jump-start his playing career in Europe.
Brandon Taylor chose Greece and PAOK Thessaloniki to begin his European experience, after finishing his career at Penn State averaging 16.3 points and 6.5 rebounds. The Greek league will also feature Kevin Punter, a guard averaging 22.2 points in his last year at Tennessee who signed with GS Lavrio. Cyprus and AEK Larnaca will be the new home for Shaq Goodwin, a talented center from Memphis who could be effective on both sides of the floor.
Last but not least, three young players moving to Turkey, starting with Tonye Jekiri, a defensive specialist with the Miami Hurricanes, one of the best rim protectors in the nation and an All-ACC defensive team, who agreed to play with the Bandirma Kirmizi in the Turkish second division. Anthony Gill signed in August with the MHP-Riesen Ludwigsburg in Germany (the same team who signed Wes Washpurn out of Northern Iowa) but did not pass his physical, forcing him to rescind his contract. He later signed with the Yeşilgiresun Belediye.
Finally, Stefan Moody, a 5-foot-9 guard out of Ole Miss with the license to shoot from anywhere on the court who signed with Trabzonspor. Moody averaged 23.6 points last season after moving to the point guard position, a change that proved to be effective because, after some initial struggle, he averaged 4.6 assists per game. If we had to make an educated guess, considering his highlights, they will have a lot of fun watching him play.
[/nextpage]